How to Read a Tree
The Sunday Times Bestseller
Format:Hardback
Publisher:Hodder & Stoughton
Published:13th Apr '23
£22.00
Available for immediate dispatch.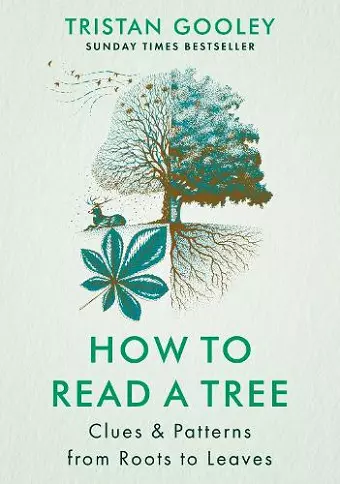 'Trees are keen to tell us so much. They'll tell us about the land, the water, the people, the animals, the weather and time. And they will tell us about their lives, the good bits and bad. Trees tell a story but only to those who know how to read it.'
'An important book and a pleasure to read.' - Raynor Winn, author of The Salt Path

'You will never look at a tree in the same way again after reading this mesmerising book. Gooley drops learning as lightly as blossom falls in spring.' - John Lewis-Stempel

'Tristan Gooley has done trees the greatest service.' - Isabella Tree

'It was a lightbulb moment! I thought I knew my local woods - I walk there almost every day. But it's a thrill to see it through fresh eyes, to develop a much deeper understanding.' - Peter Gibbs, Chair of BBC Gardeners' Question Time

'Wherever you are - city or wilderness - if you want to understand the secrets of trees you pass, this is the book to read...Tristan has the rare gift of explaining the most complex ideas with humour and deep insight.' - Peter Thomas, Emeritus Reader in Plant Ecology at Keele University, author of Trees

'Will undoubtedly leave you with a deeper appreciation of trees...your country walks will never be quite the same again' - Daily Mail

'This book will add a new dimension to your countryside stroll.' Wanderlust

Do two trees ever appear identical? No, but why? Every small difference is a clue.

Each tree we meet is filled with signs that reveal secrets about the life of that tree and the landscape we stand in. The clues are easy to spot when you know what to look for, but remain invisible to most people.

In How to Read a Tree, you'll discover the simple principles that explain the shapes and patterns you can see in trees and what they mean. And you'll learn rare skills that can be applied every time you pass a tree, whether you are in a town or a wilder spot.

As the author of the international bestsellers The Walker's Guide and How to Read Water, Tristan Gooley...
'Tristan Gooley has done trees the greatest service. In this gentle, enchanting book he leads us into their language - how to spot their natural tendencies and individual foibles, recognise their responses to stress and ingenious strategies to survive. And with these insights he arouses an even deeper affection and concern for trees - our friends and allies, with whose fate our own is inextricably bound.' * Isabella Tree *
'You will never look at a tree in the same way again after reading this mesmerising book. Gooley drops learning as lighty as blossom falls in spring.' * John Lewis-Stempel *
'Wherever you are - city or wilderness - if you want to understand the secrets of trees you pass, this is the book to read...Tristan has the rare gift of explaining the most complex ideas with humour and deep insight.' * Peter Thomas, Emeritus Reader in Plant Ecology at Keele University, author of Trees *
'An important book and a pleasure to read.' * Raynor Winn *
'It was a lightbulb moment! I thought I knew my local woods - I walk there almost every day. But it's a thrill to see it through fresh eyes, to develop a much deeper understanding.' * Peter Gibbs, Chair BBC Gardeners' Question Time *
'This book will add a new dimension to your countryside stroll.' * Wanderlust *
'Will undoubtedly leave you with a deeper appreciation of trees...your country walks will never be quite the same again.' * Daily Mail *
ISBN: 9781529339598
Dimensions: 222mm x 164mm x 34mm
Weight: 522g
320 pages