The Snow Hare
Format: Hardback
Publisher: John Murray Press
Published: 2nd Feb '23
£16.99
Available, normally delivered within 3-6 days.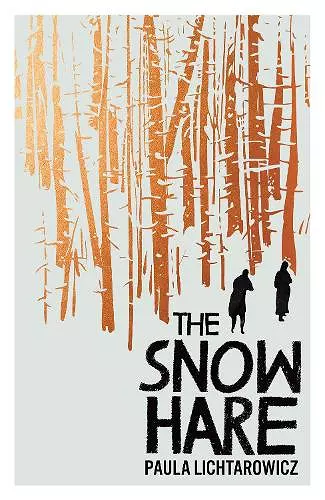 An unforgettable love story set in Siberia during the Second World War about living with impossible choices
'Wonderful . . . a vivid and endearing pictures of family life' The Times

'Heartbreaking and heartwarming in equal measure, this is an esquisite, compelling study of survival and emotional resilience' Daily Mail

Lena has her life mapped out. While her sister obsesses about fortune-telling gypsies and marriage, Lena studies the way the heart works. She isn't going to let being a girl stop her from becoming one of Poland's first female doctors. But the world has other plans for Lena. Instead of university she finds herself a reluctant army wife, lonely and unmoored by the emotions of motherhood. And as she tries to accept a different future from the one she wanted, the threat of global war becomes reality. Lena must face just how unpredictable life can be.


Deemed Enemies of State by the invading Soviets, she and her family are exiled from their Polish village to a work camp in the freezing hell of Siberia. It's here, despite the hunger and back-breaking work, Lena learns something remarkable; it is possible to fall in love even at the edge of life. And for that love, Lena must make a decision, the consequences of which will haunt her for ever.

Tender, brutal and passionate, The Snow Hare is about living with impossible choices and our incredible ability to cultivate hope in the darkest places.
'Wonderful . . . a vivid and endearing picture of family life' * The Times *
Written in richly impressive prose, The Snow Hare celebrates the human ability to survive in even the worst circumstances * Sunday Times *
Heartbreaking and heartwarming in equal measure, this is an exquisite, compelling study of survival and emotional resilience * Daily Mail *
Paula Lichtarowicz's profound and beautifully written third novel brings her back to her roots . . . [she] mesmerises us with the honesty of her characterisations and the light-handedness with which she treats the expression of those characters' feelings * Sunday Independent Review *
The Snow Hare is a well-written, compelling account of a devastating period of history, and one which provides a different perspective to the usual Nazi-focused World War II novel of survival * Business Post *
I loved this book, though it left a huge crack in my heart. A beautifully written, enthralling story of an unforgettable family caught up in a conflict that takes them all the way to a Siberian work camp. The main character, Lena, is determined and compelling, and the novel a brilliant study of what it means to survive both the best and worst of times -- JOANNA QUINN, author of The Whalebone Theatre
Love and loss, and courage and compassion, collide in this brilliantly told story of survival against the odds. Based on the true story of her grandmother, Paula Lichtarowicz's exquisite novel takes readers on a family journey full of passion, longing, regret, and eventual acceptance of choices made a lifetime ago. In these riveting, heartfelt, and brutally honest pages, Lena keeps a lifetime of secrets and dreams from her loved ones, but never allows them to stop her from loving in return -- Heather Morris, New York Times bestselling author of The Tattooist of Auschwitz
Lichtarowicz is a writer of great talent, with the ability to portray hardship and grief shot through with humour and hope. The gorgeous prose, compelling storyline, and emotional depth ensure that The Snow Hare remains in the reader's mind long after the last page -- Frances Liardet, New York Times bestselling author of We Must Be Brave
The Snow Hare by Paula Lichtarowicz is an extraordinary novel of fate, hope, love and determination. Lichtarowicz' beautifully drawn story, set against a backdrop of real historical events, is every bit as heart-wrenching as it is inspiring. The Snow Hare brings the past to life in a vivid, evocative way - reminding us that history echoes through time, and hope can sustain us even through the most difficult of circumstances. This is one of the finest historical fiction novels I've read in years -- Kelly Rimmer, New York Times bestselling author of The Warsaw Orphan
ISBN: 9781529388299
Dimensions: 238mm x 162mm x 38mm
Weight: 620g
384 pages