This is Not a Pity Memoir
The heartbreaking and life-affirming bestseller from the writer of The Split
Format:Hardback
Publisher:John Murray Press
Published:12th May '22
£14.99
Available for immediate dispatch.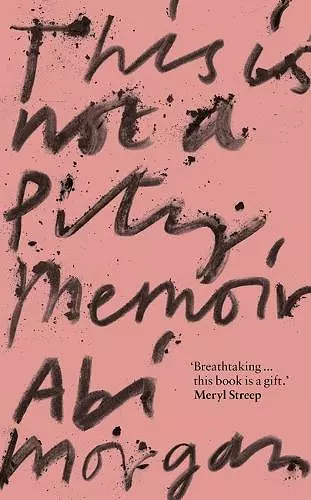 The instant SUNDAY TIMES bestseller: 'Breathtaking . . . this book is a gift' MERYL STREEP
THE INSTANT SUNDAY TIMES BESTSELLER

'Took my breath away . . . I sobbed and laughed and then sobbed again. I think it puts life into perspective but also, by being a love story, it defies many of the norms. Morgan's unique voice rings out and she is a great companion throughout' EMMA BARNETT, i-Paper, Books of the Year

'This is the meditation on love and grief that we all need to read' The Skinny, Books of the Year

'Extraordinary . . . utterly compelling and so honestly told' NIGELLA LAWSON

Both very funny and as propulsive as a thriller . . . impossible to put down' RACHEL COOKE, Observer

'Breathtaking . . . this book is a gift' MERYL STREEP

'The kind of book you will find yourself saying urgently, over and over, to friends: 'Have you read it?' CAITLIN MORAN

'Gripping, funny and always honest' DAVID NICHOLLS

'Truly breathtaking. I could not have loved it more' CAREY MULLIGAN
________________________

An ordinary day.
The end of ordinary life.

One morning in June, Abi had her to-do list - drop the kids to school, get coffee and go to work. Jacob had a bad headache so she added 'pick up steroids'. She returned home and found the man she loved and fought and laughed with for twenty years lying on the bathroom floor.

And nothing would ever be the same again.

But this is not a pity memoir. It's about meeting your person. And crazed late night Google trawls. It's about the things you wished you'd said to the person that matters then wildly over-sharing with the barista who doesn't know you at all. It's about sushi and the wrong shoes and the moments you want to shout 'cut'. It's about the silence when you are lost in space and the importance of family and parties and noise.

It's the difference between surviving and living.
It's a reminder that, even in the worst times, there is light ahead.

It's a love story.
Took my breath away. . . I sobbed and laughed and then sobbed again. I think it puts life into perspective but also, by being a love story, it defies many of the norms. Morgan's unique voice rings out and she is a great companion throughout -- Emma Barnett * I-paper, Books of the Year *
Extraordinary...utterly compelling and so honestly told -- Nigella Lawson
Every once in a while, a book comes along that causes me to undergo a genuine shift in perspective. Abi Morgan's This is Not a Pity Memoir had exactly this effect . . . heart breaking, profound and even funny -- CRESSIDA BONAS * Spectator *
Both very funny and as propulsive as a thriller...impossible to put down. -- RACHEL COOKE * Observer *
There is not a trace of self-pity in Abi Morgan's heartbreaking memoir . . . full of humour, urgency and pathos, written in a staggeringly frank, intimate voice -- CHARLOTTE CRIPPS * Independent *
Uplifting and powerful...highly recommended * Woman's Weekly *
Compelling . . . mordant humour and heart-warming beauty * Irish Independent *
This Is Not a Pity Memoir . . . hurtles along poetically, while managing to be funny and ultimately full of hope * Independent *
With her trademark deadpan, trenchant wit, and a deeply soulful mindfulness, Abi Morgan takes a breathtaking hike on the cliff edge of a life upended by illness. By turns harrowing, cracking sharp and heartbreaking, it is comforting to accompany someone with her sense of humor and the absurd on this trip - this book is a gift to anyone who has been similarly unmoored by fate and the furies -- MERYL STREEP
Very moving but never sentimental, tough but never cynical . . . gripping, funny and always honest -- DAVID NICHOLLS
Truly breathtaking. Arrestingly honest, funny, profound and exquisitely written. I could not have loved it more -- CAREY MULLIGAN
I wept. I laughed. I dared to hope. I felt my heart crack. This book is life. It is exceptional -- SAM BAKER
The kind of book you will find yourself saying urgently, over and over, to friends: 'Have you read it?' -- CAITLIN MORAN
An extraordinary story told extraordinarily well. I don't know how Abi Morgan has managed to live through all this, let alone write such a fascinating, heartbreaking yet frequently funny book about it. It is so gripping I honestly couldn't put it down -- MARINA HYDE
Funny and brutally honest . . . an absolute insight for those of us lucky enough to never know life like this -- PANDORA SYKES
Incredibly powerful, moving, funny, honest & brave. I LOVED it -- EDITH BOWMAN
A mash-up of all the things I love in a book - honesty, comedy, pathos and what-happens-next. It's brutal - in a good way - but above all else it's a testament to kindness, stickability and enduring love -- KIT DE WAAL
A very moving and utterly absorbing story told with the surgical skill of the brilliant scriptwriter she is * ALEXANDRA SHULMAN *
A sharp, poignant and witty joy to read that will leave you energised and uplifted * CELIA WALDEN *
Astonishing, terrifying, heartbreaking... as well as grief and fear, there is humour, tenderness and so much love * Daily Express *
Told with brutal honesty and a heroic amount of humour . . compelling * Radio Times *
Heart-breaking but life affirming and soul-stirring . . . Told with a candid honesty and humour . . . a touching love story and a testament to the human spirit, family and friendship -- SARRA MANNING, Red
Uplifting and powerful * Woman and Home *
Captivating and compelling * Daily Express *
A heartbreaking but hopeful read that will resonate with anyone who has had to cope with a loved one's illness * Chic, supplement to the Irish Daily Star *
A touching love story and a testament to the human spirit, family and friendship * Red Online *
I really recommend that book * Fortunately... with Fi and Jane (BBC Radio 4 podcast) *
Funny, moving and thought-provoking. It's a love story, but not as you know it * Bryony Gordon *
Award-winning screenwriter Abi Morgan's account of how she effectively lost her husband to a terrible brain injury is full of heart yet simultaneously unsentimental * Business Post *
True to the book's title, [Abi is] a born storyteller sharing an extraordinary human tale in all its complexity, heartbreak and humour * Cardiff Western Mail *
An extraordinary book . . . uplifting and life-affirming. It's billed as a love story and this is exactly what it is * Daily Mail *
My book of the year absolutely has to be screenwriter Abi Morgan's heart-wrenching memoir. This Is Not A Pity Memoiris an unputdownable story of tragedy, loss, love, grief, transformation and survival. When Abi's husband Jake was taken ill and put into a coma for months, she thought that was the worst that could happen to their family... then he woke up and a whole new series of unimaginably painful challenges presented themselves. It will make you sob, it will make you laugh, it will break your heart and then it will put it back together again. I promise. I've already bought this book several times. I fully expect to buy it several times more' -- Sam Baker
This is the mediation on love and grief that we all need to read * The Skinny, Books of the Year *
ISBN: 9781529388336
Dimensions: 218mm x 140mm x 32mm
Weight: 420g
304 pages