Maame
The bestselling debut of 2023 that readers have fallen in love with
Format:Hardback
Publisher:Hodder & Stoughton
Published:14th Feb '23
£14.99
Available for immediate dispatch.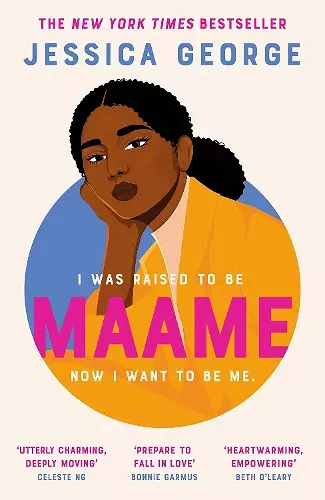 THE INSTANT NEW YORK TIMES BESTSELLER.
Hilarious, honest and heartbreaking, MAAME is the most moving debut of 2023 - and a heroine you'll never forget.
*Read with Jenna Today Book Club Pick*
*Apple Book of the Month*
*A 2023 Debut of the Year as chosen by:
SUNDAY TIMES, STYLIST, VOGUE, RED MAGAZINE, INDEPENDENT, BELFAST TELEGRAPH, HUFFINGTON POST UK, POP SUGAR, HARPERS BAZAAR, MY WEEKLY, EVENING STANDARD, COSMOPOLITAN, BUSTLE*
___________________________________________________________________________

'Lively, funny, poignant . . . Prepare to fall in love with Maddie. I did!'
BONNIE GARMUS, Sunday Times bestselling author of Lessons in Chemistry

'Utterly charming and deeply moving . . . Maddie's journey will resonate with anyone who's had to grow up - or who's still trying to'
CELESTE NG, New York Times bestselling author of Little Fires Everywhere

'I loved every page of this beautiful, heartwarming, empowering book. An exceptional debut from an incredibly exciting new talent'
BETH O'LEARY, Sunday Times bestselling author of The Flatshare

'One of the must-reads of the year' SUNDAY TIMES
----------------------------------------------------------------------------------------------------
Maame (ma-meh) has many meanings in Twi, but in my case, it means woman.

Meet Maddie Wright.

All her life, she's been told who she is. To her Ghanaian parents, she's Maame: the one who takes care of the family. Her mum's stand-in. The primary carer for her father, who suffers from Parkinson's. The one who keeps the peace - and the secrets.

It's time for her to speak up.

When she finally gets the chance to leave home, Maddie is determined to become the kind of woman she wants to be. One who wears a bright yellow suit, dates men who definitely aren't on her mum's list of prospective husbands, and stands up to her boss's microaggressions. Someone who doesn't have to google all her life choices.

But when tragedy strikes, Maddie is forced to face the risks - and rewards - of putting her heart on the line.

But will it take losing everything to find her voice?

As blisteringly funny and achingly relatable as its heroine, MAAME is an unforgettable coming-of-age story about finally becoming the heroine of your own life.
----------------------------------------------------------------------------------------------------
EVERYONE IS TALKING ABOUT MAAME:read more...
'One of the must-reads of the year' * Sunday Times *
Tender and compelling from the word go, Maame is one of the year's most anticipated books . . . Very funny and utterly readable, this is one for your reading lists' * Stylist *
Jessica George's Maame has a warmer, frothier take on family matters. The book follows 20-something British Ghanaian Maddie, who has spent years as a carer for her father and the breadwinner for her family, as she breaks free of doing what's expected of her * Vogue *
A poignant and heart-warming coming of age story * Red Magazine *
A must-read for 2023 * Belfast Telegraph *
This sparkling and poignant coming-of-age novel is going to be huge * Fabulous, Sun on Sunday *
A funny coming-of-age novel. When Maddie Wright is presented with the opportunity to leave her traditional Ghanaian home to become the type of woman she has always dreamt of being, she leaps into her new life. However, tragedy then strikes, leaving Maddie forced to consider what she's sacrificing * Huffington Post UK *
Maame will have you laughing, crying, and rooting for the protagonist the whole way * Pop Sugar *
George's novel is a deeply moving one, packed with heart and sparkling prose * Harper's Bazaar *
Moving, funny, poignant and completely unforgettable, you'll love this beautiful coming of age tale about a young woman on a journey to discover the real her' * My Weekly *
George has fashioned an appealing hero here: You can't help but root for Maddie's emancipation. Funny, awkward, and sometimes painful, her blossoming is a real delight to witness. A fresh, often funny, always poignant take on the coming-of-age novel -- Kirkus starred review
George illustrates the complexities of navigating two cultures and rising from the pressure of other people's expectations beautifully. This is a clever and deeply moving debut * Booklist *
A pitch-perfect debut...The work's ample magnetism resides in the savvy portrayal of Maddie as a complicated, sharp, and vulnerable person who is trying to figure out adulthood. Readers will revel in this. * Publishers Weekly *
An exciting and emotionally charged debut...Every word is a gem. You will fall in love with Maddie's character as she sets out to find her way in the world via nightmare bosses, passive-aggressive flatmates, questionable men and online dating. A really heart-warming tale of redemption and self-discovery * The i paper *
It's impossible not to champion Maddie from the start of this fantastic debut... A truly remarkable debut. Powerful, poignant and downright heart-breaking in parts * My Weekly *
Jessica George's first novel is a compassionate portrait of a young woman caught between cultures, and a moving look at how grief can undo you. Maddie is a charming mix of innocence and world-weariness; you end up rooting for her to find her place in the world * Times *
An accomplished debut from a talented writer * Prima *
Warm and heartfelt, this tender coming-of-age novel will have you rooting for her through it all. * Marie Claire *
This coming-of-age story is witty, poignant and inspiring * Elle *
Pick of the Week: We root for her through triumphs and tears in this funny tale * The Sun *
A moving, funny story about finally finding out where you truly belong * Cosmopolitan *
The hot debut * Grazia *
A resonant and engaging debut from Jessica George, we absolutely loved Maddie's mature voice as she deals with challenges at this potent time in her life * Magic Book Club *
A coming of age tale with a perfectly imperfect protagonist, Maame holds a mirror up to the lives of Black British women anxiously treading the tightrope of our twenties, with little to lean on and much to learn * AZ Magazine *
Irresistibly charming, this story of a later bloomer shows us that we all find our stride in life when we are meant to, even if it's not when the rest of the world expects us to. Maame left me with a huge smile and a full heart! * Mikki Brammer *
This book will make you laugh and cry but you'll be rooting for Maame all the way * Stylist *
ISBN: 9781529395570
Dimensions: 238mm x 164mm x 38mm
Weight: 620g
400 pages