The Unremembered Places
Exploring Scotland's Wild Histories
Format:Paperback
Publisher:Birlinn General
Published:1st Apr '21
£9.99
Available for immediate dispatch.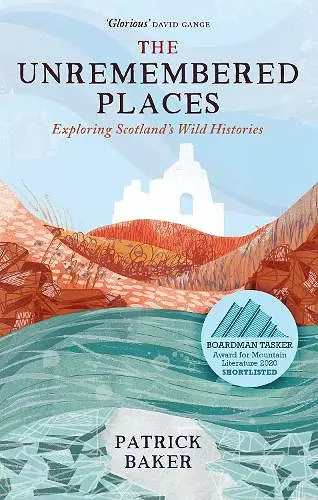 Shortlisted for the The Great Outdoors Awards – Outdoor Book of the Year 2020
Shortlisted for the Boardman Tasker Award for Mountain Literature 2020
There are strange relics hidden across Scotland's landscape: forgotten places that are touchstones to incredible stories and past lives which still resonate today. Yet why are so many of these 'wild histories' unnoticed and overlooked? And what can they tell us about our own modern identity?
From the high mountain passes of an ancient droving route to a desolate moorland graveyard, from uninhabited post-industrial islands and Clearance villages to caves explored by early climbers and the mysterious strongholds of Christian missionaries, Patrick Baker makes a series of journeys on foot and by paddle. Along the way, he encounters Neolithic settlements, bizarre World War Two structures, evidence of illicit whisky production, sacred wells and Viking burial grounds.
Combining a rich fusion of travelogue and historical narrative, he threads themes of geology, natural and social history, literature, and industry from the places he visits, discovering connections between people and place more powerful than can be imagined.
'An evocative tome detailing his adventures in tracking down some of Scotland's most remote monuments to history ... the lost relics and secret places of Scotland's wild, wild past'
* Sunday Post *
'Grippingly told…each of his journeys fills with atmosphere and emotion'
* BBC Countryfile Magazine *
'Good nature writers can create such strong images that we almost feel that we are standing on the same windswept moors, gazing out over the same landscapes. Patrick Baker is such a writer, and this book is perfect for armchair travel'
* Sorted *
'A lyrical exploration of Scotland's regions of "rumour and folklore," of hidden places and often-forgotten tales, that makes a compelling argument for a greater examination of "wild histories" beyond the most well-trodden narratives of adventure' 
* Boardman Tasker Award for Mountain Writing, Shortlisted 2020 *
'The Unremembered Places breaks [the] mould. It describes Patrick Baker's refreshingly quirky explorations on foot or kayak, often with his children, of remote and obscure locations'
* Scottish Mountaineering Club Journal *
'The Unremembered Places is packed with stories and reflections that dovetail into explanations of our relations with the land… For those with any inclination to adventure, natural beauty, or forgotten histories this will be a treasured read'
* Geographical Magazine *
'Wandering and kayaking through some of the UK's wildest places, Baker reveals an area tantalisingly layered through with history and mystery in this fascinating exploration of the area. Along the way as he navigates Scotland's peaks, creeks and cracks, he charts the labyrinth of ancient and modern history as well as the connections between the two, enriching any visit to the area'
* Wanderlust Magazine *
'Patrick Baker explores far-flung ruins and relics – from a cemetery for dam-builders to the remains of illicit stills – that serve as archives for Scotland's "wild histories". It's a haunting little book'
* Telegraph - One of the Telegraph's 'best travel books to take you far away', today *
'The stories are well told, entertaining and informative, and the author's adventures, which don't always go smoothly, bring reality to the situations  in which the historical events took place ... For anyone interested in the Scottish outdoors and the history of its wild places this is a great read. I thoroughly recommend it'
-- Chris Townsend * Outdoors *
'We are taken on a series of journeys, into areas of Scotland's history and geography of which most readers are likely to be ignorant. So the nine chapters of the book, each dealing with a different place, discovery and journey are educational and enlightening. They are also enjoyable. ... in short, anyone reading this engaging book will learn much and have pleasure in doing so'
-- Allan Massie * Scotsman *
'The stories in this compact book are the stuff of campfire nights... a book of great interest and insight. The effort of reaching these outposts is impressive in itself, but when he arrives at his destination, Baker brings a sensitivity to history, landscape, and the lingering spirit of those who once lived there that raises The Unremembered Places far above reportage. It is a reclaiming of remoteness, and a reminder that, no matter how far off the map, for those who lived here these locations were the centre of the world'
-- Rosemary Goring * Herald *
'Baker's prose is so vivid that you see, hear, smell and feel his journeys with him. When writers often fall back on damaging divisions between 'nature' and 'culture', this book is a crucial reminder that there's no contradiction in the term 'wild histories''
-- David Gange
'Baker draws on boyhood fascinations to unravel the draw that many adventurers feel for the Scottish Highlands. On this journey, Baker treads the same path as the shadowy figures of Scottish history: merchants, journeymen, vagrants who each made their way through an unforgiving countryside. For Baker, the landscape is a passageway through time, connecting modern backpackers with the forgotten folk of history'
-- Jacob Dykes * Geographical magazine, Best Books of 2020 Nature, History of Place *
'One of the few places that storytelling still exists is round a bothy fire. There's a very real sense that Patrick Baker's writing is bringing people back into connection with the landscape'
-- John Burns
'Baker is an excellent guide to the places he explores, curious, honest, informative, and charming in equal measure (the chickens of Inchkeith will not easily be forgotten) ... It's an excellent book whose relevance goes far beyond the Scottish landscape it explores, and which I strongly recommend'
* Desperatereader.blogspot.com *
'Baker brings to life Scotland's unnoticed and overlooked wild histories'
* Waterstones Recommen
Short-listed for Boardman Tasker Award for Mountain Literature 2020
Short-listed for The Great Outdoors Awards – Outdoor Book of the Year 2020
ISBN: 9781780277240
Dimensions: 195mm x 130mm x 15mm
Weight: 226g
224 pages
New in Paperback