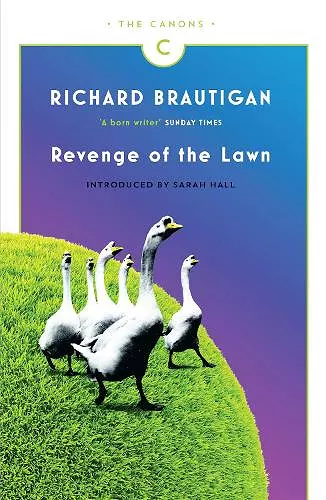 62 of Brautigan's ultra-short stories, reissued to mark the 30th anniversary of his death. Introduced by Sarah Hall
Revenge of the Lawn is Richard Brautigan in miniature and contains no fewer than 62 ultra-short stories set mainly in Tacoma, Washington (where the author grew up) and in the flower-powered San Francisco of the late fifties and early sixties.

In their compacted form, which ranges from the murderously short 'The Scarlatti Tilt' to one-page wonders like the sexually poignant poetry of 'An Unlimited Supply of 35 Millimetre Film', Brautigan's stories take us into a world where his fleeting glimpses of everyday strangeness leave stories and characters resonating in our heads long after they're gone.
He was an absolute original who found cause for celebration in the most unlikely places. * * Guardian * *
His writing manages to conjure up a feeling of relaxation and well-being, somehow existing in our reality without being touched by it - easy to fall into and over far too soon. After reading this you'll feel like you've been on holiday with a friend * * Time Out * *
The verbal humour and zany charm of the book remain quite irresistible. * * Daily Telegraph * *
Charming . . . the stories have memorable or beautifully handled moments of observation * * London Review of Books * *
ISBN: 9781782113782
Dimensions: 198mm x 129mm x 9mm
Weight: 123g
160 pages
Main - Canons edition