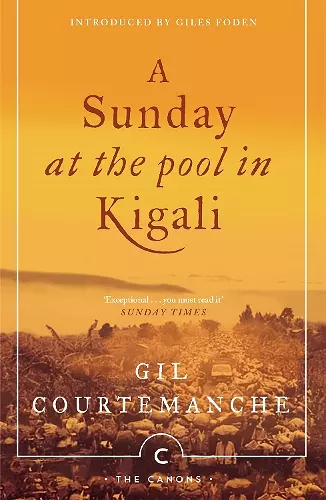 Amodern classic of immense power and poignancy set amidst the horror of war
In the middle of Kigali is a swimming pool at the Hôtel des Mille-Collines. It is a magnet for a privileged group of residents, a place where middle-class Rwandans drink with melancholy expatriates and prostitutes. But beyond the walls of the hotel exists a chaotic society in which millions live in poverty, surrounded by violence and disease. In this troubled world, Valcourt, a Canadian journalist, falls for Gentille, a beautiful Hutu waitress.

A Sunday at the Pool in Kigali is a poignant love story, a stirring hymn to humanity and a modern classic of spellbinding power, confronting the nightmare that ravaged Rwanda in the 1990s.
Exceptional . . . you must read it * * Sunday Times * *
A Heart of Darkness for today -- YANN MARTEL
Intense and gut-wrenching, poetic and disquieting * * Observer * *
Illuminating and horrifying, compassionate and scathing * * Times Literary Supplement * *
Astounding . . . It's no surprise that this book has won so many prizes * * Daily Mail * *
Courtemanche's time in Rwanda, where he worked as a journalist, may have produced the first great novel of the catastrophe that befell that country * * Guardian * *
Haunting, graceful . . . with a journalist's unblinking eye and an appreciation of bitter irony * * New York Times * *
An intense affair, urgent and nerve-wrackingly ominous, with a surprisingly boisterous humour * * Financial Times * *
Courtemanche's work has an enormous quality . . . Read this book * * Spectator * *
Very powerful . . . I urge you to read it * * Literary Review * *
Short-listed for The Rogers Writers' Trust Fiction Prize 2003 (Canada)
ISBN: 9781782118886
Dimensions: 198mm x 129mm x 18mm
Weight: 202g
288 pages
Main - Canons Reissue