My Phantoms
Format:Paperback
Publisher:Granta Books
Published:5th May '22
£9.99
Available for immediate dispatch.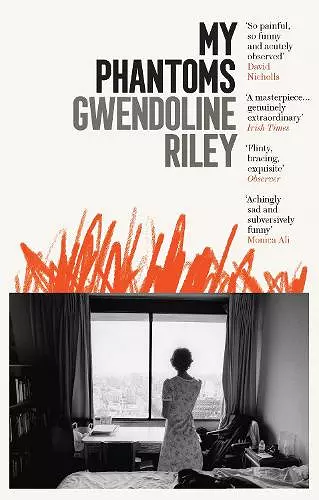 An electric, compelling, often painfully funny portrait of family relationships, which shows the damage we can do in the course of a life.
**Shortlisted for the Rathbones Folio Prize 2022** A Book of the Year in the Observer, the Daily Telegraph, the Irish Times, the Guardian, the White Review, the Evening Standard, the Big Issue, the TLS, the Week and the New Statesman. From the Women's Prize-Shortlisted author of First Love Helen Grant has always been a mystery to her daughter. Twice-divorced, with few friends, her desire to join in is matched only by her need to stand apart. As Bridget looks back over their fractious relationship, she is forced to confront the cruelties inflicted on both sides. My Phantoms is an insightful, compelling and painfully funny account of a family strained to breaking point; a reckoning with the damage we do over the course of a life.
What a phenomenal ear she has, and how remorselessly funny she is - My Phantoms is unmissably good -- Kevin Barry, author of * Night Boat to Tangier *
'My Phantoms is the funniest and bleakest book I have read in a long time. It's also the most moving - unexpectedly, perhaps, as it sets about capturing the awful comedy of a particularly English kind of sourness: one that takes perverse delight in disappointment and calamity. Gwendoline Riley's talent for making characters live, and her skill for identifying the essential moment, word or gesture, is immense' -- Chris Power, author of MOTHERS
Devastated by this novel. Gwendoline Riley can draw character like nobody else. The weight each pristine, witty sentence carries! This is life, its aches, its silences, its love, what is carried and left unsaid. Her prose is so sharp you could cut yourself on it -- Elizabeth Macneal
I read My Phantoms with great pleasure. It's a wonderful combination of achingly sad and subversively funny, simultaneously sharp and tender, and always finely observed. The dialogue is pitch perfect. The relationships are agonising. It's a subtle book, with big themes lightly drawn and precisely rendered, about how to live and how to love -- Monica Ali, author of Brick Lane
A writer of singular vision * Guardian *
Take up the gauntlet with Gwendoline Riley: it's worth it -- Alex Clark * TLS *
[Riley] fixes her parents on the page with darkly comic precision, mercilessly attendant to their tics and repetitions... Deliciously uncomfortable -- Justine Jordan * Guardian *
Riley's novels get under your skin. My Phantoms is unsettling for many reasons - the way it picks at the scab of unconditional love, the way it interrogates questions of inheritance and influence. More than anything, though, it's the fact that it chips away at the compact between reader and narrator... devastating, bleak, unforgettable -- Alex Preston * Observer *
Insidiously powerful... There's a lot of sentimental, affirmative fiction about femininity out there at the moment. This jagged little novel stands as a bracing corrective -- Claire Allfree * Evening Standard *
Riley is a laureate of the stilted, and the dialogue crackles with repetitions, unsaid ellipses, contradictions... There is a great deal of psychological perceptiveness in this slim novel... [My Phantoms sets] itself apart, and is vital, and dashing -- Stuart Kelly * Scotsman *
By some way Riley's best book, a crisply devastating record of a mother-daughter dynamic * New Statesman *
A masterpiece in compression... My Phantoms leaves us with a precise and bleak-humoured portrait of the phantoms that can haunt a family -- N. J. Stallard * Literary Review *
One for anyone who has struggled with their relationship with their mother. Riley dials up the tension as she skewers familial love * i Paper *
Gwendoline Riley's unsentimental fiction hovers on the edge of comedy and bleakness... My Phantoms is a distilled psychological tour de force from an exceptional writer -- Madeleine Feeny * Spectator *
Riley misses nothing, and her icy evocations of dysfunction and distress are unforgettable -- Dinah Birch * TLS *
Riley has the ability to draw out the subtle workings and cruelties of relationships and psyches, and wrest them into compact, hard-hitting stories -- Baya Simons * FT *
Deeply sad and uncomfortable but savagely funny, too... Riley's prose echoes the repressed trauma that suffuses the novel - spare and elegant -- Gwendolyn Smith * i Paper *
My Phantoms is completely devastating -- Joanna Kavenna * Oldie *
A riveting, merciless little novel * Sunday Times *
One of those books in which nothing much happens and everything happens... a brilliant brief, acerbic, witty, dark read that I can't recommend heartily enough -- Rose Ruane * BBC Scotland *
Unsettlingly funny and sharply observant... With notes of Sally Rooney's style in its tightly-written dialogue -- Emily Chudy * Independent *
My Phantoms effectively captures the ennui of our times... raw ingenuity -- Rabeea Saleem * Irish Times *
Unflinching and excruciating, but at times grimly hilarious -- Leo Robson * New Statesman *
Riley's seventh novel is a slender, quietly savage riposte to the sentimentality that so often defines depictions of family bonds * Mail on Sunday *
A novel of squirmy, excruciating humour but also poignancy and pathos... Riley's ear for how people speak, and how to render that in the artifice of the novel, has never been deployed more successfully -- Stuart Kelly * Yorkshire Post *
A brilliant novel... Riley has always been especially skilled at psychological minutiae -- Sophie Atkinson * New Left Review *
Short but exceptionally hard-hitting -- Alex Clark * Financial Times *
As droll as it is unnerving -- Joanna Taylor * Evening Standard *
Unsettlingly funny and sharply observant -- Murray Scougall & Sally McDonald * Sunday Post *
Bleak, tough-minded, reeking with irony * Private Eye *
A short, sharp shock of a novel [...] funny and devastating * Guardian *
· A masterpiece of cruel precision and vivid emotional realism about a thwarted mother-daughter relationship [...] A genuinely extraordinary book -- Mark O'Connell * Irish Times *
A slim but brilliant novel - managing to pull off caustic humour and heartbreaking sadness, often within the same line - and it confirms Riley as one of the most talented young writers in the UK today * Financial Times *
Riley's writing is precise; her ability to pick up on human fallibility merciless... A work of genius * Big Issue *
ISBN: 9781783783274
Dimensions: 198mm x 129mm x 12mm
Weight: 151g