Fen
Format:Paperback
Publisher:Vintage Publishing
Published:8th Jun '17
£9.99
Available for immediate dispatch.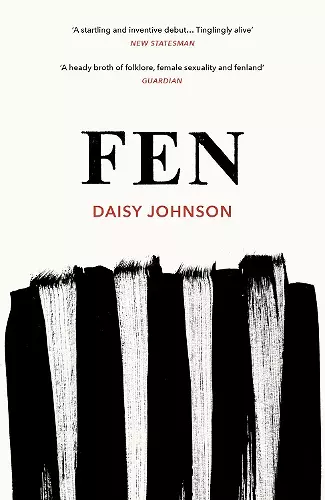 Welcome to the Fen - a landscape of dark magic and desire, conjured by a fierce new voice in British fiction.
But the wild is always close at hand, ready to erupt.

This is a place where animals and people commingle and fuse, where curious metamorphoses take place, where myth and dark magic still linger.
Revisit the haunting debut short story collection from the Booker-shortlisted author of Everything Under.

'Full of unabashedly, refreshingly angry women... In a year that made me furious, Daisy Johnson's Fen was a howl I didn't know I needed' Celeste Ng


The Fen is a liminal land. Real people live their lives here. They wrestle with sex and desire, with everyday routine. But the wild is always close at hand, ready to erupt.

This is a place where animals and people commingle and fuse, where curious metamorphoses take place, where myth and dark magic still linger. So here a teenager may starve herself into the shape of an eel. A house might fall in love with a girl. A woman might give birth to a, well, what?


'Instant classic...a bold, take-no-prisoners collection situated somewhere between Angela Carter and Deborah Levy' Jeff VanderMeer
Daisy Johnson's story collection Fen was unanimously beloved... firmly situating her among the UK's most exciting new voices. -- Marta Bausells * Elle *
Just finished rereading Daisy Johnson's story collection Fen. Just as powerful and beautiful and dark and strange as the first time. One of my favourite books of all time. -- Jeff Vandermeer
Johnson's heady broth of folklore, female sexuality and fenland landscape reads like a mix of Graham Swift and Angela Carter… For atmosphere, originality and plain chutzpah, this is an impressive first collection. -- Sarah Crown * Guardian *
Poetic, risky… Johnson's slippery and sensual stories-cum-chapters have an amphibious elemental quality and a contemporary provincial witchiness of their own. -- Phil Baker * Sunday Times *
There is big, dangerous vitality herein - this book marks the emergence of a great, stomping, wall-knocking talent. -- Kevin Barry
Reading the stories brought the sense of being trapped in a room slowly, but very surely, filling up with water. You think: this can't be happening. Meanwhile, hold your breath against the certainty it surely is. -- Cynan Jones, author of The Dig
Winner of The Edge Hill Short Story Prize 2017 (UK)
Long-listed for The New Angle Prize 2017 (UK)
ISBN: 9781784702106
Dimensions: 198mm x 129mm x 13mm
Weight: 170g
208 pages