Pharmacopoeia
A Dungeness Notebook
Format:Paperback
Publisher:Vintage Publishing
Published:3rd Mar '22
£12.99
Available for immediate dispatch.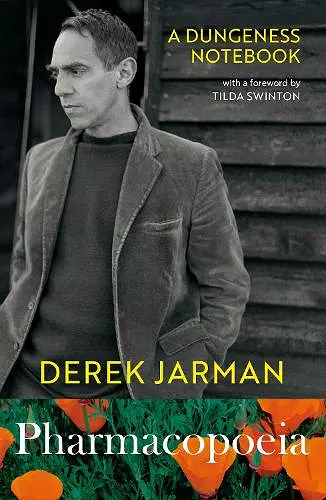 Conceived of as a 'pharmacopoeia' - an ever-evolving circle of stones, plants and flotsam sculptures all built and grown in spite of the bracing winds and arid shingle - it remains today a site of fascination and wonder.

Pharmacopoeia brings together the best of Derek Jarman's writing on nature, gardening and Prospect Cottage.
'I planted a dog rose. Then I found a curious piece of driftwood and used this, and one of the necklaces of holey stones on the wall, to stake the rose. The garden had begun. I saw it as a therapy and a pharmacopoeia.'

In 1986 artist and filmmaker, Derek Jarman, bought Prospect Cottage, a Victorian fisherman's hut on the desert sands of Dungeness. It was to be a home and refuge for Jarman throughout his HIV diagnosis, and it would provide the stage for one of his most enduring, if transitory projects - his garden. Conceived of as a 'pharmacopoeia' - an ever-evolving circle of stones, plants and flotsam sculptures all built and grown in spite of the bracing winds and arid shingle - it remains today a site of fascination and wonder.

Pharmacopoeia brings together the best of Derek Jarman's writing on nature, gardening and Prospect Cottage. Told through journal entries, poems and fragments of prose, it paints a portrait of Jarman's personal and artistic reliance on the space Dungeness offered him, and shows the cycle of the years spent there in one moving collage.

'[Derek] made of this wee house, his wooden tent pitched in the wilderness, an artwork - and out of its shingle skirts, an ingenious garden - now internationally recognised. But, first and foremost, the cottage was always a living thing, a practical toolbox for his work' Tilda Swinton, from her Foreword
ISBN: 9781784877330
Dimensions: 199mm x 133mm x 14mm
Weight: 272g
160 pages