Land Healer
How Farming Can Save Britain's Countryside
Format:Paperback
Publisher:Ebury Publishing
Published:16th Mar '23
£10.99
Available for immediate dispatch.
This paperback is available in another edition too: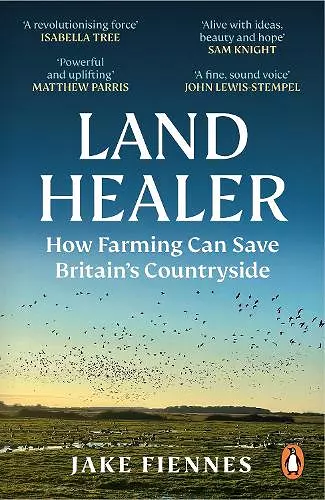 'Jake Fiennes is changing the face of farming in Britain... a revolutionising force' Isabella Tree

Our relationship with our land is broken: we must heal it.

Jake Fiennes is on a mission to change the face of the English countryside. As Conservation Manager at Holkham in Norfolk, one of the country's largest historic country estates, his radical habitat restoration and agricultural work has nurtured its species and risen its crop yields - bringing back wetlands, hedgerows, birds and butterflies over 25,000 acres of land.

But this isn't rewilding - there is no 'wild' in Britain anymore. Mass farming, crop science and industrial chemicals have destroyed the majority of our natural landscape and wildlife over the last century. Land Healer is the story of Fiennes's ambition to bring back our flora and fauna - by reclaiming our traditions and trialling new experiments which could restore our symbiosis with our land, and save our shared future.

Following the farming year and the natural cycle of the seasons, Land Healer chronicles a life of conservation lived at the edges, and is a manifesto for rethinking our relationship with the natural world before it's too late.
Jake Fiennes is changing the face of farming in Britain ... A revolutionising force -- Isabella Tree
With mud on his boots and hope in his heart, Fiennes tells a powerful and uplifting story of food, farming and living with nature -- Matthew Parris
We can only solve the crises of climate, extinction and human ill-health by healing our relationship with the land. Jake Fiennes shows us how in this inspiring, realistic and practical book -- Patrick Barkham
A powerful call to arms, this fascinating book makes a clear case to put farming at the heart of the restoration of our countryside -- Sarah Langford, author of Rooted
One of the motive forces behind this new way of looking at the land -- Tony Juniper, Chair of Natural England
ISBN: 9781785947315
Dimensions: 197mm x 125mm x 20mm
Weight: 257g
272 pages