Two Tribes
Format:Paperback
Publisher:Atlantic Books
Published:1st Apr '21
£8.99
Available for immediate dispatch.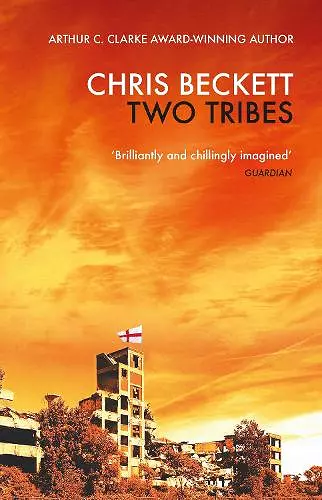 'Brilliantly and chillingly imagined'Guardian

'Explored with wit, thoughtfulness and emotional weight' Spectator

As a historian in the bleak, climate-ravaged twenty-third century, it's Zoe's job to record and archive the past, not to recreate it. But when she comes across the diaries of Harry and Michelle, who lived two hundred years ago, she becomes fascinated by the minutiae of their lives and decides to write a novel about them, filling in the gaps with her own imaginings.

Harry and Michelle meet just after the Brexit referendum when Harry's car breaks down outside a small town in Norfolk. Despite their different backgrounds, and Michelle having voted Leave while Harry voted Remain, they are drawn to each other and begin a relationship.

From her long perspective, the way Zoe sees their world is somewhat different from the way we see it now. Two Tribes becomes a reflection on the way our ideas are shaped by class and social circumstances, and how they change without us even noticing. It explores what divides us and what brings us together. And it asks where we may be headed next.
Brilliantly and chillingly imagined * Guardian *
A wise and frequently shaming portrait of our own time ... explored with wit, thoughtfulness and emotional weight * Spectator *
Read this for his mordant dissection of tribalism - why the sense of belonging can become so desperately destructive. * The Times *
Two Tribes holds up a mirror to our fractured times, stripping away the shallow concerns of contemporary politics with razor-sharp observations. * Daily Mail *
Bursting with brilliantly thought-provoking ideas on almost every page, Two Tribes is one of these rare novels that leaves you looking at the world in a new way. * Readers Digest *
A disturbing descent into a surreal world, written with a deft hand. * Adrian Tchaikovsky on Beneath the World, a Sea *
Beckett is superb at undercutting reader assumptions with a casual line of dialogue or acute psychological observation: the book reads like Conrad's Heart of Darkness reimagined by JG Ballard. * Guardian on Beneath the World, a Sea *
Eden is building into one of most vivid and fascinating places in modern SF. * Eddie Robson, SFX, on The Eden Trilogy *
A captivating and haunting book * Daily Mail on Dark Eden *
ISBN: 9781786499332
Dimensions: 198mm x 129mm x 21mm
Weight: 296g
304 pages
Main