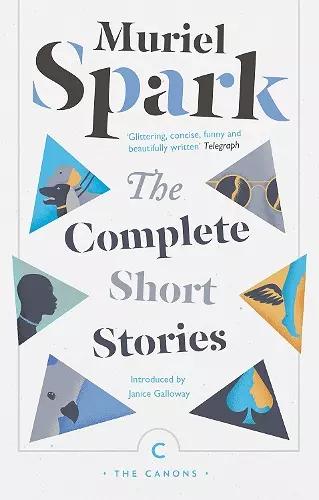 The definitive short story collection from an unmistakable voice. Introduced by Janice Galloway
From the cruel irony of 'A member of the Family' to the fateful echoes of 'The Go-Away Bird' and the unexpectedly sinister 'The Girl I Left Behind Me', in settings that range from South Africa to the Portobello Road, Muriel Spark probes the idiosyncrasies that lurk beneath the veneer of human respectability, displaying the acerbic wit and wisdom that are the hallmarks of her unique talent.

The Complete Short Stories is a collection to be loved and cherished, from one of the finest short story writers of the twentieth century.
It is perhaps her short stories that demonstrate her gifts best: wit, perception, acute characterisation, elegance and precision. They mark her out as one of the finest writers of her generation * * Observer * *
Glittering, concise, funny and beautifully written * * Telegraph * *
Completely, searingly original. There is nobody remotely like her * * Independent * *
None could equal the cool perception with which she chronicles the darker mysteries of the human conidtion -- John Mortimer * * Evening Standard * *
One of the most decisive and unmistakable voices in contemporary fiction - youthful, witty, sly, maternal, intimate, and alive with opinion -- Stephen Schiff * * New Yorker * *
My admiration for Spark's contribution to world literature knows no bounds. She was peerless, sparkling, inventive and intelligent - the crème de la crème -- Ian Rankin
A wholly original presence in modern literature -- Andrew Motion
Muriel Spark's novels linger in the mind as brilliant shards, decisive as a smashed glass is decisive -- John Updike * * New Yorker * *
Dullness is as alien to her as inelegance * * New Statesman and Society * *
You've got to hand it to Canongate. When it comes to repackaging their back catalogue, they're in a class of their own . . . What have [the Canons] in common? Nothing - except for a subtle yet powerful branding . . . the way they are marketed has a touch of genius * * Scotsman * *
ISBN: 9781786890016
Dimensions: 198mm x 129mm x 34mm
Weight: 439g
608 pages
Main - Canons Reissue