Life Of Pi
Format:Paperback
Publisher:Canongate Books
Published:5th Jul '18
£9.99
Available for immediate dispatch.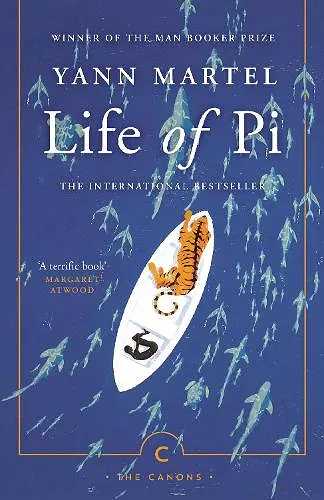 The phenomenal, Man Booker Prize-winning, international bestseller
One boy, one boat, one tiger . . .

After the tragic sinking of a cargo ship, a solitary lifeboat remains bobbing on the wild, blue Pacific. The only survivors from the wreck are a sixteen-year-old boy named Pi, a hyena, a zebra (with a broken leg), a female orang-utan - and a 450-pound Royal Bengal tiger. The scene is set for one of the most extraordinary and best-loved works of fiction in recent years.
This enormously lovable novel is suffused with wonder * * Guardian * *
A terrific book . . . Fresh, original, smart, devious, and crammed with absorbing lore -- MARGARET ATWOOD
Every page offers something of tension, humanity, surprise, or even ecstasy * * The Times * *
Vivid and entrancing * * Sunday Telegraph * *
Extraordinary . . . Life of Pi could renew your faith in the ability of novelists to invest even the most outrageous scenario with plausible life * * New York Times Book Review * *
Full of clever tricks, amusing asides and grand originality * * Daily Telegraph * *
Inventive, shocking and ultimately uplifting * * Daily Mail * *
Dramatises and articulates the possibilities of storytelling * * Observer * *
A unique and original story, brilliantly told * * Guardian * *
Martel's engaging characterisation and vivid description enliven and enrich this dreamy, fantastic tale * * The Times * *
Winner of The Man Booker Prize 2002 (UK)
Winner of Boeke Prize 2003 (South Africa)
Winner of Asian/Pacific American Award for Literature in Best Adult Fiction 2001–2003 (United States)
Short-listed for Coventry Inspiration Book Awards 2013 (UK)
ISBN: 9781786891686
Dimensions: 198mm x 129mm x 20mm
Weight: 226g
336 pages
Main - Canons