Beatrice and Virgil
Format:Paperback
Publisher:Canongate Books
Published:7th Jul '11
£8.99 was £9.99
Available to order, but very limited on stock - if we have issues obtaining a copy, we will let you know.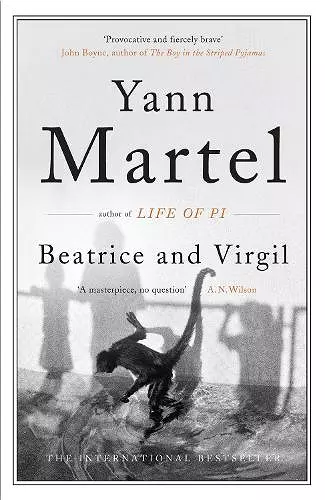 The dazzling follow-up to the million-copy bestselling LIFE OF PI
This is the story of a donkey named Beatrice and a monkey named Virgil.

It is also the story of an extraordinary journey undertaken by a man named Henry.

It begins with a mysterious parcel, and it ends in a place that will make you think again about one of the most significant events of the twentieth century.

Once you have finished reading it, it is impossible to forget.
A provocative and fiercely brave novel. It grips the reader with teeth as sharp as a Bengal tiger's -- John Boyne * * author of The Boy in the Striped Pyjamas * *
A sophisticated fable...Beatrice and Virgil is so imbued with passionate moral and intellectual ardor that even the cynical should find it engaging. * * Wall Street Journal * *
It's a masterpiece, no question. -- A N Wilson * * Reader's Digest * *
An explosion of ideas that keep the pages turning...a wild, provocative novel * * Independent on Sunday * *
Audaciously original, never less than engrossing, often disturbing, and in its denouement truly horrifying. -- Mick Brown * * The Telegraph Magazine * *
A slim but potent exploration of the nature of survival in the face of evil. -- Nina Sankovitch * * The Huffington Post * *
It is awe-inspiring when a writer hits a high note; goes dancing along the edge of something; hurls himself against enormous questions again and again...Writers such as Martel are a kind of human sacrifice. It cannot be easy to imagine a way into suffering, come out, lead others into it and through it. * * Los Angeles Times * *
For page after page it held my attention, and the atmosphere of foreboding is impressively done. * * Irish Sunday Independent * *
Imaginative and innovative novel about the Holocaust, including taxidermists, talking donkeys and the best ever description of a pear. It's weird, wonderful and impressively short. * * Financial Times * *
Strikingly impressive . . . It is the kind of book that you can read only in short bursts, while telling yourself that you will re-read it immediately . . . It has the wit, charm and hectic strangeness of a painting by Chagall. * * Times * *
Sings with rich and bleak poetry. * * Guardian * *
ISBN: 9781847677679
Dimensions: 198mm x 129mm x 14mm
Weight: 154g
224 pages
Main