All the Frequent Troubles of Our Days
The True Story of the Woman at the Heart of the German Resistance to Hitler
Format:Hardback
Publisher:Canongate Books
Published:5th Aug '21
£16.99
Available for immediate dispatch.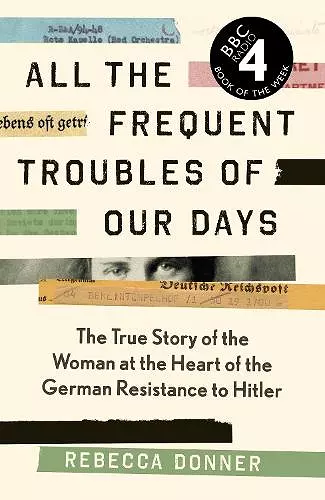 The thrilling and previously unknown story of the woman who led one of the largest anti-Nazi resistance groups in Germany, now a New York Times bestseller
SELECTED AS A BBC RADIO 4 BOOK OF THE WEEK

Born and raised in America, Mildred Harnack was twenty-six when she enrolled in a PhD programme in Germany and witnessed the meteoric rise of the Nazi party. In 1932, she began holding secret meetings in her apartment - a small band of political activists that by 1940 had grown into the largest underground resistance group in Berlin.

She recruited Germans into the resistance, helped Jews escape, plotted acts of sabotage and collaborated in writing leaflets that denounced Hitler and called for revolution. When the first shots of the Second World War were fired she became a spy, couriering top-secret intelligence to the Allies. On the eve of her escape to Sweden, she was ambushed by the Gestapo. During a hastily convened trial at the Reichskriegsgericht - the Reich Court-Martial - a panel of five judges sentenced her to six years at a prison camp, but Hitler overruled the decision and ordered her execution. On 16 February 1943, she was strapped to a guillotine and beheaded.

Harnack's great-great-niece Rebecca Donner draws on extensive archival research and newly discovered documents in her family archives in this astonishing work of nonfiction. Fusing elements of biography, political thriller and scholarly detective story, Donner brilliantly interweaves letters, diary entries, notes smuggled out of a Berlin prison, survivors' testimony, and a trove of declassified intelligence documents into a powerful, epic story, reconstructing the moral courage of an enigmatic woman nearly erased by history.
Reads like a thriller . . . Written in a pacey, suspenseful present tense, it's biography with a pulse . . . a superb, sure-footed work of historical detection conceived with a powerful intelligence * * Sunday Times * *
Astonishing . . . wilder and more expansive than a standard-issue biography . . . a real-life thriller with a cruel ending * * New York Times * *
A beautifully rich portrait of a very brave woman. While never less than scrupulously researched, this biography explodes the genre of "biography": experimental but achieved, Donner's story reads with the speed of a thriller, the depth of a novel and the urgency of an essay, like some deeply compelling blend of Alan Furst and W.G. Sebald -- JAMES WOOD
Donner questions what motivates someone to risk their life for the sake of their beliefs in a gripping story that reads like a political thriller * * Observer * *
Written in a fizzing present tense, the book in places reads like a spy novel . . . Donner writes in beautiful, crisp prose (like her great-great-aunt, as quotes from Mildred's letters reveal) . . . The result is a work that transports us to a period now slipping from living memory but that contains vital lessons for our own time * * Herald * *
A tour de force of investigation . . . gripping * * Economist * *
A thrilling and inspiring book. It is a treasure trove for lovers of biography, new writing and the history of the Third Reich * * Scotsman * *
A stunning literary achievement. Rebecca Donner forges a new kind of biography - almost novelistic in style and tone, this scholarly work resurrects the courageous life of Mildred Harnack. A relentless sleuth in the archives, Donner has written a page-turner story of espionage, love and betrayal -- KAI BIRD, winner of the Pulitzer Prize
A lively read . . . Mildred Harnack has received proper recognition at last * * Financial Times * *
Pacey . . . an impressive piecing together of fragments . . . a memorial to Mildred Harnack * * Spectator * *
Winner of PEN/Jacqueline Bograd Weld Award for Biography 2022 (United States)
Winner of National Book Critics Circle Award for Biography 2022 (United States)
Winner of The Chautauqua Prize 2022 (United States)
Short-listed for Plutarch Award 2022 (United States)
Short-listed for LA Times Book Prize 2021 (United States)
ISBN: 9781786892195
Dimensions: 240mm x 162mm x 49mm
Weight: 852g
576 pages
Main