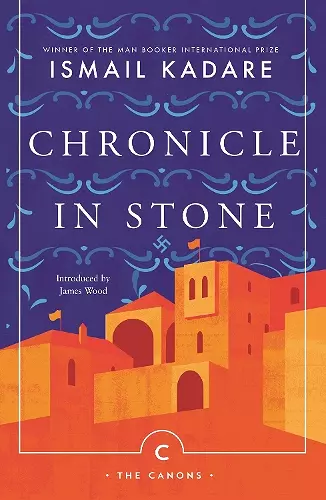 An early masterpiece from the inaugural winner of the Man Booker International Prize, introduced by James Wood
In a seamless mosaic of dreams and games, a young boy reflects on events as his hometown in Albania falls to a series of invaders. Amid floods and bombings, his own innocence and wonder are lost forever in the madness and brutality of the Second World War.

A disturbing mix of tragedy and comedy, politics and sexuality, Chronicle in Stone is a fascinating masterpiece about what it means to grow up in a turbulent world.
A great novel . . . A joyful, often comic piece of work -- James Wood * * New Yorker * *
Sophisticated and accomplished in its poetic prose and narrative deftness -- John Updike * * New Yorker * *
A master storyteller -- JOHN CAREY
Ismail Kadare has sometimes been compared with Kafka, and you can see why * * Mail on Sunday * *
There are very few writers alive today with the depth, power and resonance of this remarkable novelist * * Herald * *
Chronicle in Stone is stunning, the quintessential tale of war seen through a child's eyes -- Susan Salter Reynolds * * Los Angeles Times * *
Writing like this is hard to stop quoting . . . It is musical not only in rhythms that survive in this deft . . . translation but in its most elemental perceptions -- Evan Eisenberg * * The Nation * *
[Albania's] most remarkable export: the novels of Ismail Kadare -- Ken Kalfus * * The Village Voice Literary Supplement * *
Chronicle in Stone is epic in its simplicity; the history of a young Albanian and a primitive Albania awakening into the modern world -- Michael Dregni * * Minneapolis Star Tribune * *
ISBN: 9781786894496
Dimensions: 198mm x 129mm x 23mm
Weight: 256g
384 pages
Main - Canons