Sharks in the Time of Saviours
Format:Hardback
Publisher:Canongate Books
Published:2nd Apr '20
£16.99
Available for immediate dispatch.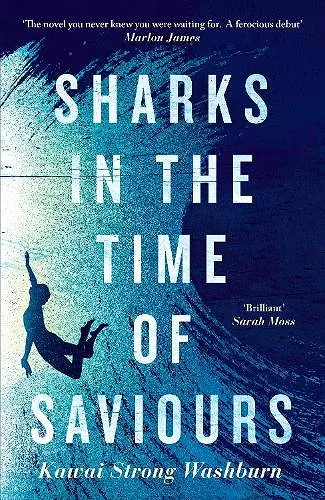 A powerful debut novel that delicately blends Hawaiian myth with the broken American dream, this is an engrossing family saga and a story of exile and the pursuit of salvation
'The novel you never knew you were waiting for' Marlon James
'As vivid as it is splendid' New York Times
'I didn't want it to end' Sarah Moss

A Barack Obama Book of the Year. Named one of the Best Books of 2020 by New York Times, Guardian, Irish Times, Oprah Magazine, BBC Culture, Good Housekeeping, Kirkus Reviews and Amazon

In 1995 in Kailua-Kona, Hawai'i, seven-year-old Nainoa Flores is saved from drowning by a shiver of sharks. His family, struggling to make ends meet amidst the collapse of the sugar cane industry, hails his rescue as a sign of favour from ancient Hawaiian gods.

But as time passes, this hope gives way to economic realities, forcing Nainoa and his siblings to seek salvation across the continental United States, leaving behind home and family.

With a profound command of language, Washburn's powerful debut novel examines what it means to be both of a place, and a stranger in it.
The novel you never knew you were waiting for. Old myths clash with new realities, love is in a ride or die with grief, faith rubs hard against magic, and comic flips with tragic so much they meld into something new. All told with daredevil lyricism to burn. A ferocious debut -- MARLON JAMES
Sharks in the Time of Saviours is a brilliant novel and one of the most engaging and memorable books I've read this year. Sentences sparkle, the narrative voices remain distinctive and complete, and the deep notes of magic sound under the realism of poverty and loss. I didn't want it to end -- SARAH MOSS
As vivid as it is splendid . . . This may be his debut, but he proves himself an old hand at dissecting the ways in which places - our connections to them, our disconnections from them - break us and remake us . . . With prose that can be breathy and sweaty in one paragraph before gliding softly and tenderly into the next, this passionate writer cries out for us to see Hawaii in its totality: as a place of proud ancestors and gods and spirits, but also of crumbling families and hopelessness and poverty. Of mystery and beauty at every corner -- IMBOLO MBUE * * New York Times * *
Sharks in the Time of Saviours bursts with life. It is bright and beautifully noisy. It's so good it hurts and hurts to where it heals. It is revelatory and unputdownable. Washburn is an extraordinarily brilliant new talent. This family saga is shark tooth sharp. Its pages shoot off crackles and sparks, and you come out of it changed. It is sublime -- TOMMY ORANGE, author of THERE, THERE
Adjusted my understanding of the world . . . Beautifully written and completely absorbing -- Sarah Moss * * Guardian * *
[Hawai'i's] ancient history and lush natural beauty pulses through the book. Washburn is an assured and agile stylist, creating a unique and urgent voice for each member of the family . . . An electrifying, heart-wrenching exploration of how life, hope and goodness persist in the aftermath of loss * * Daily Mail * *
Radiant . . . Immediately grips you in its jaws, plunges you into Hawaiian waters, and finally releases you, breathless and changed . . . There's something bewitching, too, in Washburn's prose - the furious, lively spell of it * * O, The Oprah Magazine * *
Epic in scope, it throbs with magic realism and urban misery . . . [Written with] style and swagger . . . Told with such loquacious vigour that the reader is swept along, utterly rapt. It marks Washburn out as a writer with talent to burn * * i * *
A beautifully written debut novel * * Vogue * *
Mixes hardscrabble Hawaiian reality with flights of wonder and the supernatural in a way that is wholly original * * Vanity Fair * *
Winner of PEN/Hemingway Award for Debut Fiction 2021 (United States)
Short-listed for The Kitschies Golden Tentacle 2021 (UK)
Long-listed for Center for Fiction First Novel Prize 2020 (United States)
ISBN: 9781786896483
Dimensions: 240mm x 162mm x 35mm
Weight: 611g
384 pages
Main