The Art of Dying
Format:Paperback
Publisher:Canongate Books
Published:7th Jan '21
£8.99
Available for immediate dispatch.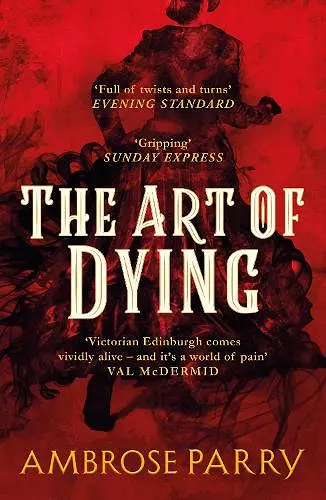 The next in the series of gripping historical crime novels from bestselling author Chris Brookmyre and consultant anaesthetist Dr Marisa Haetzman, set in nineteenth-century Edinburgh
'Parry's Victorian Edinburgh comes vividly alive - and it's a world of pain' Val McDermid
'Brilliantly conceived, fiendishly plotted' Mick Herron

SHORTLISTED FOR THE McILVANNEY PRIZE 2020

A Raven and Fisher Mystery: Book 2

Edinburgh, 1849. Hordes of patients are dying all across the city, with doctors finding their remedies powerless. And a whispering campaign seeks to paint Dr James Simpson, pioneer of medical chloroform, as a murderer.

Determined to clear Simpson's name, his protégé Will Raven and former housemaid Sarah Fisher must plunge into Edinburgh's deadliest streets and find out who or what is behind the deaths. Soon they discover that the cause of the deaths has evaded detection purely because it is so unthinkable.
The Ambrose Parry novels are as much about medical discovery as the pursuit of wrongdoers, and are a triumph on both counts. Brilliantly conceived, fiendishly plotted and immaculately realised, these thrillers pull off the most difficult double-whammy of all: beneath blood and butchery so real they almost stain the pages lie both heart and soul. Two books in, Sarah and Will's story feels like it's just beginning. Wherever Parry takes them, I'll follow -- MICK HERRON
Gleeful, romping . . . The fog and stench of Edinburgh's Old Town definitely jump off the page . . . The central relationship between loveable rogue Raven and proto-feminist Fisher is the beating heart of The Art of Dying. Both characters are drawn with real empathy and nuance, and their complicated feelings for each other drive the book as much as the smart storylines. A great piece of storytelling * * Big Issue * *
Full of twists and turns - a great read * * Evening Times * *
A gripping Victorian thriller * * Sunday Express * *
Dark and visceral, gritty and charming, with a twisting plot and compelling characters - not least, Victorian Edinburgh at her deadliest. The immersive world of Ambrose Parry just gets better and better -- JESS KIDD
The central characters and their relationship are the book's strengths . . . worth a read - the characters and setting are wonderful * * The Times * *
A menacing tale of murder amid the medical experiments of mid-19th century Edinburgh * * iNews * *
Offers more of the alluring combination of crime fiction and historical fact seen in last year's The Way of All Flesh . . . The reader may need a tiny dose of chloroform to relax after all of these thrills. . . For any reader in need of a swift-acting tonic, I prescribe picking up this thriller as soon as possible * * Scotland on Sunday * *
Intriguing * * i * *
Some gore (historical gore doesn't count) but mostly nice historical detail (reminding you that doctors never do know everything) with a little overlay of romantic tension and a side of old-fashioned feminism. Compelling * * Financial Times * *
Short-listed for The McIlvanney Prize 2020 (UK)
ISBN: 9781786896735
Dimensions: 198mm x 129mm x 24mm
Weight: 315g
416 pages
Main