A Corruption of Blood
Format:Paperback
Publisher:Canongate Books
Published:4th Aug '22
£9.99
Available for immediate dispatch.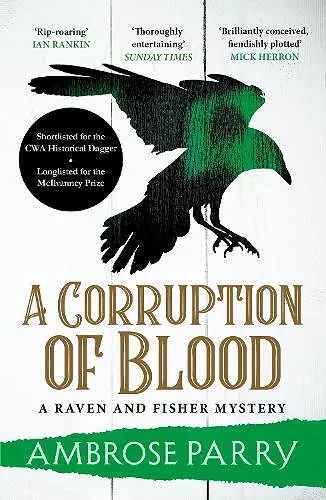 Family secrets, sinister murders, a divided Edinburgh - the next thrilling medical mystery in the historical crime series featuring duo Will Raven and Sarah Fisher
SHORTLISTED FOR THE McILVANNEY PRIZE
SHORTLISTED FOR THE CWA HISTORICAL DAGGER 2022

A Raven and Fisher Mystery: Book 3

Edinburgh, 1850. This city will bleed you dry.

Sarah Fisher is keeping a safe distance from her old flame Dr Will Raven. Having long worked at the side of Dr James Simpson, she has set her sights on learning to practise medicine herself. A notion everyone seems intent on dissuading her from.

Across town, Raven finds himself drawn into Edinburgh's mire when a package containing human remains washes up on the shores of Leith, and an old adversary he has long detested contacts him, pleading for Raven's help to escape the hangman.

Sarah and Raven's lives seem indelibly woven together as they discover that wealth and status cannot alter a fate written in the blood.
A real slow burner of a novel which is a marvellous tale of murder and deception in Victorian Edinburgh. It handles some difficult subject matter with sensitivity and care and has a real feeling of authenticity * * Bloody Scotland, McIlvanney Prize Shortlist * *
The ambience of mid-nineteenth-century Edinburgh is well captured and makes for a gripping read. The authors are astute observers of human behaviour and outlook. The three novels in the trilogy are clearly well researched and shine a light on the cruelties, injustices and inequalities of the period described . . . Based on some actual events it's more than mere entertainment * * Bookmunch * *
[A] stellar third whodunit set in nineteenth-century Edinburgh . . . The integration of real history enhances a page-turning plot * * Publishers Weekly (starred review) * *
Another brilliant evocation of mid-nineteenth century Scotland, this series just gets better and better. The backstory of the characters, loves, careers and ambitions, is as riveting as the mystery . . . A mix of drama, romance and thriller * * NB Magazine * *
Praise for the series: Parry's Victorian Edinburgh comes vividly alive - and it's a world of pain -- VAL McDERMID
Brilliantly conceived, fiendishly plotted and immaculately realised, these thrillers pull off the most difficult double-whammy of all: beneath blood and butchery so real they almost stain the pages lie both heart and soul . . . Wherever Parry takes them, I'll follow -- MICK HERRON
A rip-roaring tale of murder amid the medical experiments of 19th-century Edinburgh. The book brings both city and period to colourful life and is a joy to read -- IAN RANKIN * * Guardian * *
Menacing, witty and ingeniously plotted, Ambrose Parry's debut draws you into the dark heart of nineteenth-century Edinburgh and won't let you go until the final page -- S.J. PARRIS
Gleeful, romping . . . The fog and stench of Edinburgh's Old Town definitely jump off the page . . . The central relationship between loveable rogue Raven and proto-feminist Fisher is the beating heart of The Art of Dying. Both characters are drawn with real empathy and nuance, and their complicated feelings for each other drive the book as much as the smart storylines. A great piece of storytelling * * Big Issue * *
An astonishing debut. The dark and dangerous past is brought thrillingly to life. I can't wait to read more of Raven and Sarah -- MARK BILLINGHAM
Short-listed for CWA Historical Dagger 2022 (UK)
Short-listed for The McIlvanney Prize 2022 (UK)
ISBN: 9781786899897
Dimensions: 198mm x 129mm x 25mm
Weight: 277g
416 pages
Main