The Infinite
Format:Paperback
Publisher:Canongate Books
Published:2nd Apr '20
£7.99
Available for immediate dispatch.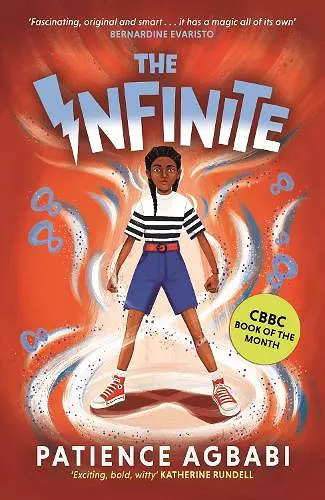 The Infinite is a mind-bending, time-twisting adventure for readers who loved Time Travelling with a Hamster and A Wrinkle in Time. The first book in The Leap Cycle series
'Vivid, funny, exciting and inventive' Philip Pullman
'Has a magic all of its own' Bernardine Evaristo
'What an inspiration. The future just got so much better' Benjamin Zephaniah

FIGHT CRIME, ACROSS TIME!

Leaplings, children born on the 29th of February, are very rare. Rarer still are Leaplings with The Gift - the ability to leap through time. Elle Bíbi-Imbelé Ifíè has The Gift, but she's never used it. Until now.

On her twelfth birthday, Elle and her best friend Big Ben travel to the Time Squad Centre in 2048. Elle has received a mysterious warning from the future. Other Leaplings are disappearing in time - and not everyone at the centre can be trusted.

Soon Elle's adventure becomes more than a race through time. It's a race against time. She must fight to save the world as she knows it - before it ceases to exist . . .
The Infinite is vivid, funny, exciting and inventive. But there are books that are all those things and still don't work. This works brilliantly, and the characters are so delightful that I don't think anyone could fail to like them. I was so fond of Elle and Big Ben that I'd have followed them anywhere. Patience Agbabi has created something fresh and original here, and I look forward very much to what she writes next -- PHILIP PULLMAN
A fascinating, original and smart adventure tale with a rhythmic prose style that leaps off the page into scintillating life. It has a magic all of its own -- BERNARDINE EVARISTO
This time-travelling tale is a thrilling adventure with brilliant characters. Imaginative, unusual, exciting and funny * * The Week Junior * *
The Infinite is so adventurous that it lit up parts of my brain I didn't know I had. Patience Agbabi has caused a wonderful supernova deep in the literary universe . . . Elle is curious, questioning and fearless. What an inspiration. The future just got so much better -- BENJAMIN ZEPHANIAH
Highly original . . . It's 2048 and kids have gone missing. It's up to Elle and a cadre of friends to unravel what's really going on across time * * Observer * *
Exactly as brilliant as I thought it would be. An exciting, bold, witty and magical book -- KATHERINE RUNDELL, author of ROOFTOPPERS
Astonishing . . . I can't stop thinking about it, everyone should read it. It's rich and diverse and just brilliant -- FLEUR HITCHCOCK, author of THE BOY WHO FLEW
Elle is an engaging, self-aware character . . . and the environmental theme will strike a chord with young readers * * Guardian * *
Fans of Hayley Long's Sophie Someone will love this imaginative time-travelling caper which follows 12-year-old Leaping Elle. A nail-biting adventure! -- JULIA FORSTER, author of WHAT A WAY TO GO
In this inventive, mind-boggling tale, Agbabi introduces us to Elle - determined, autistic, time-travelling crimefighter - whose voice will charm and astonish readers everywhere -- STEVE TASANE, author of CHILD I
Short-listed for Oxfordshire Book Awards 2021 (UK)
Short-listed for The Arthur C. Clarke Award 2021 (UK)
Short-listed for Wales Book of the Year 2021 (UK)
Short-listed for The Scottish Teenage Book Prize 2022
Long-listed for Branford Boase Award 2021 (UK)
ISBN: 9781786899651
Dimensions: 198mm x 129mm x 17mm
Weight: 184g
272 pages
Main