The Late Americans
Format: Hardback
Publisher: Vintage Publishing
Published: 22nd Jun '23
£18.99
This title is due to be published on 22nd June, and will be despatched as soon as possible..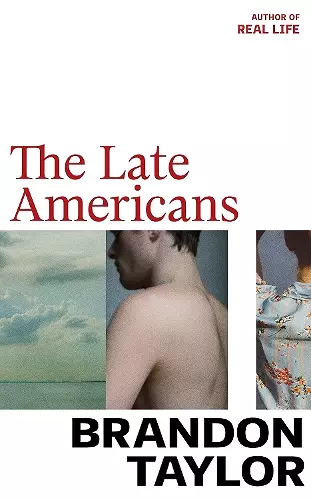 Selected as a Best Book of 2023 by the Guardian, Irish Times, Harper's Bazaar, Esquire and i-D

The author of the Booker-shortlisted Real Life returns with a deeply involving new novel of young men and women at a crossroads

In a university town in the American Midwest a circle of lovers and friends navigate tangled webs of connection as they try to work out what they want, and who they are.

As they test their own desires in a series of relationships they are confronted by volatile figures in town, from an unruly, vulnerable young poet to a local landlord harbouring a lifetime of resentment. The friends ask themselves and each other, what is the right thing to stake a life on: work, love, money, dance, poetry? Is love possible without harm? And what does true connection look like in an age of precarity?
A beautiful, detailed writer, Taylor excels at penning his own expansive, contemporary versions of Victorian novels... The Late Americans is one of his most exciting creations yet. * Harper's Bazaar, *Books to Look Out For 2023* *
Taylor is a sharp chronicler of the body. In The Late Americans, the body is an instrument and an archive, vulnerable to the complicated violence of pleasure and work. -- Raven Leilani, author of Luster
Brandon Taylor writes with such precision and perception that reading his work is an immersive experience: you inhabit his characters, you share their nerve endings. The Late Americans is a brilliant and electrifying symphony of a novel. I loved it. -- Lily King, author of Writers & Lovers and Euphoria
A glimmering study of young humans in brutal times. This novel enthralls like an orchestra tuning, pours with rain, sizzles and glances knowingly from the page. -- Jeremy Atherton Lin, author of Gay Bar
Tender and unflinching, tender because unflinching, Brandon Taylor's The Late Americans is written with bristling clarity, wicked wit and audacious assuredness. The moment-to-moment pleasures of Taylor's prose are such that you simultaneously cannot wait to see where he takes you next while being happy for him to take you anywhere. A wonderful book. -- Colin Barrett, author of Homesickness
Following a group of three friends as they traverse love and life in Iowa City, Taylor's novel examines the intricacies of relationships through an intimate lens, deftly chronicling contemporary loneliness and desire. * i-D, *Best New Books of 2023* *
The Late Americans is a dizzying plunge into the lives of young people making art in America in the era of survival capitalism, grappling over the big questions like they're fighting over a gun. Deep within their ambitions, their pettiness and lust, is the meaning and even grandeur they seek - and whether or not his characters ever find it, Brandon Taylor has. A bravura performance on the edge of a knife. -- Alexander Chee, author of How to Write an Autobiographical Novel
Brandon Taylor's characters in The Late Americans are obsessed with art, money, integrity, success, survival - and with one another. They can be deliciously catty, but they're also desperate to be loved. And repulsed by that desperation. They are, in a word, human. Taylor realizes each character so fully, with such enviable - and often hilarious - granularity, that it's hard not to feel like I know these people, that I could pick up my phone right now and call any of them. It's the best kind of magic, this book. I'm already rereading it. -- Kaveh Akbar, author of Pilgrim Bell
If you're interested in complex characters, consider picking up this book in May! * Palatinate, *Books to Look Out For 2023* *
A tender, deeply felt, perfectly paced novel about solitude and society, sexuality and race. -- Colm Tóibín, praise for REAL LIFE
A manual for life that I wish I'd had sooner. -- Naoise Dolan, praise for REAL LIFE
Extraordinary, brilliant, claustrophobic, tightly wound, heartbreaking. I do not have enough words to describe how I loved this book. -- Daisy Johnson, praise for REAL LIFE
Brandon Taylor is a phenomenon. -- Paul Mendez, praise for REAL LIFE
He is a writer of rare daring, his fiction a series of revelations. -- Katie Kitamura, praise for FILTHY ANIMALS
With the rigour of the laboratory, Taylor wields scalpel-like prose, putting human behaviours under the microscope... Precise and masterly. * Financial Times, praise for REAL LIFE *
A great American novel, a great college novel, a great summer novel, a great queer novel... The best novel I've read this year. * Dazed, praise for REAL LIFE *
ISBN: 9781787334434
Dimensions: 222mm x 138mm x 40mm
Weight: 500g
336 pages