Astonish Me!
First Nights That Changed the World
Format:Paperback
Publisher:Profile Books Ltd
Published:5th Oct '23
£10.99
Available for immediate dispatch.
This paperback is available in another edition too: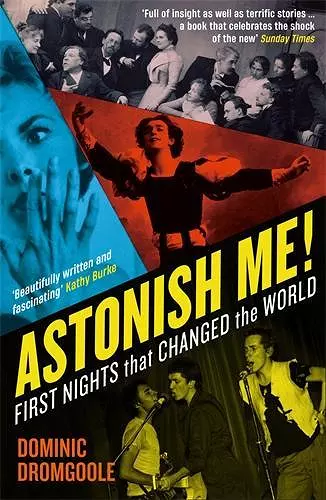 A tour through the most sensational first nights across the arts, by the long-term Globe Theatre artistic director
A SUNDAY TIMES BEST FILM AND THEATRE BOOK OF 2022 'Anyone in love with the arts will fall in love with this beautifully written and fascinating book' Kathy Burke Astonish Me! is an adrenaline-charged rollercoaster through history's seismic first nights, exploring how individual artists can change and shape the story of culture - and allow us to see ourselves in new ways. It tells of times when 'the air between people seems to alter' as art achieves profound change, across the globe and across history. Dominic Dromgoole has created a radical and fresh canon. He begins in New York in 1963, as Lorraine Hansberry remakes American theatre and a nation's perception of race. And then, as the lights go up, we find ourselves in Renaissance Florence, watching Michelangelo's David being hauled into the Piazza della Signoria. The dust settles and we are transported to the birth of theatre in fifth-century Athens - and then to Paris to meet with Diaghilev and Stravinsky for the Rite of Spring. We witness kabuki's creation, as a radical women's performance, in Kyoto; the Sex Pistols shattering Thatcherite Britain at Manchester's Free Trade Hall; and watch as Hitchcock directs Psycho.
Astonish Me! is both a book of revelations and a witness to change: it has all the tension of a thriller and the see-sawing highs and lows of a romance novel. At its heart, however, is an enduring fascination with what makes art and why we need it -- Maggie O'Farrell
Fantastic -- Roger Allam
Written with verve and wit ... Astonish Me! encourages us to reflect not only on the communality of art but to appreciate its invaluable social utility * The Times *
A keen cultural history primer - and a ringside seat to the electric thrill of witnessing great art -- 'Paperbacks Read This Week' * Daily Telegraph *
Full of insight as well as terrific stories ... a book that celebrates the shock of the new, those moments in artistic history when the dial shifted and something radical emerged ... enjoyable * Sunday Times *
Fascinating ... dazzling in its enthusiasm ... unexpected * Times Literary Supplement *
The result is a richly eclectic set of essays ... Mr Dromgoole shows a capacity to bring a major cultural event to life ... offers an erudite, wide-ranging and heart-warming tribute to artistic innovation -- Michael Billington * Country Life *
Exquisite ... greatly stirring ... Imagine what it would be like to be present at the arrival of some of the most momentous works of art in history; to witness the birth of the new. That's what Dominic Dromgoole does in his latest book * Daily Telegraph *
[Dromgoole] writes with such generous, broad-brush panache ... on every page he comes across as a red-blooded enthusiast, an erudite polymath and a bit of a preacher with an urgent message too * Mail on Sunday *
A celebration of the artistic achievements that overcame the odds to change the story of culture, and whose effects rippled out to change the world * Spectator *
Earthy, eclectic and shot through with personal insights * The Week *
Anyone in love with the arts will fall in love with this beautifully written and fascinating book -- Kathy Burke
Dominic Dromgoole takes moments from our cultural history and shines a new light on them. Astonishingly vibrant, bristling with energy, wit and wisdom -- Hugh Bonneville
First-rate, varied and very enjoyable * Mature Times *
Absorbing ... accessible and chatty ... you will always be entertained by Dromgoole's slightly waspish sense of wit, his sense of invention and ... a sense of care and understanding -- Louise Penn * Lou Reviews *
On Hamlet: Globe to Globe: 'His love of language is contagious ... the storytelling segues into scholarship with extraordinary skill as he ricochets the modern world with a 400-year-old text.' * The Times *
Dromgoole's witty account offers insight about the play and its enduring appeal ... Compulsively readable. * The New York Times (100 Notable Books) *
Erudite and fascinating ... truly compelling. * Observer *
Exhilarating ... he succeeds in making the familiar unfamiliar. -- James Shapiro
On Will and Me: How Shakespeare Took Over My Life 'A superbly written, infectiously high-spirited narrative ... a hard book to put down.' -- Terry Eagleton * The Irish Times *
Friendly, inclusive, I warmed [to it] immediately. A terrific book. -- William Leith * Evening Standard *
His book is an absolute delight ... The outstanding quality is his sheer, overwhelming love for Shakespeare. * Sunday Times *
This book is clearly a triumph. -- Jonathan Bate * Spectator *
ISBN: 9781788166812
Dimensions: 200mm x 136mm x 26mm
Weight: 300g
384 pages