Alison
a stunning and emotional graphic novel for fans of Sally Rooney, from an award winning illustrator and author
Format:Paperback
Publisher:Profile Books Ltd
Published:3rd Aug '23
£12.99
Available for immediate dispatch.
This paperback is available in another edition too: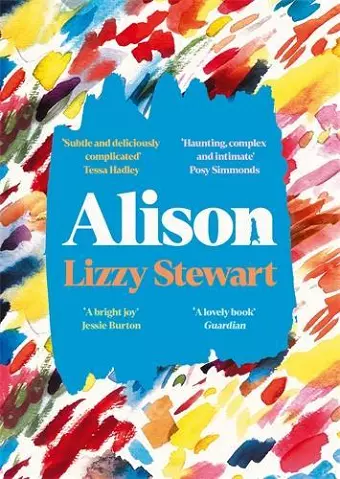 A visually stunning and beautifully written debut graphic novel of love, life and art
'Alison is a haunting book, complex and intimate. Lizzy Stewart has written and drawn the aches and confusions of love and growing up with immense skill' Posy Simmonds Alison is newly married, barely twenty and struggling to find her place in the world. A chance encounter with an older artist upturns her life and she forsakes convention and her working-class Dorset roots for the thrumming art scene of London in the late seventies. As the thrill of bohemian romance leads inevitably to disappointment, Alison begins to find her own path - through art, friendship and love.
Subtle and deliciously complicated -- Tessa Hadley
A delicious portrait of 80s and 90s London and a more universal tale of a working-class young woman making a life in a world that has not been designed for the likes of her. For all its effortlessness [...] Alison ends up carrying a great emotional heft. It's a lovely book, and I cried at the end. * Guardian *
Every page is a marvel; I absolutely loved it to death -- Jenny Colgan
Alison is a haunting book, complex and intimate. Lizzy Stewart has written and drawn the aches and confusions of love and growing up with immense skill -- Posy Simmonds
Nuanced, lovely, and very real, Alison haunted me for days and left me wanting to give it to everyone I know -- Jessie Greengrass, author of The High House
I totally loved Alison. It's the story of the life of an artist told with subtlety and truth. It made me cry and I immediately wanted to share it with female friends -- Amy Liptrot
Sad and sweet and joyful and hopeful. -- Claire Fuller, author of Unsettled Ground
A genius graphic novel (but lots of words) about a young woman from Dorset who leaves her life to be with a much older famous artist in London. It's also brilliant on relationships, creativity and friendship (and the art world) -- India Knight
Her compassionate depictions of women alone, women together, will undoubtedly find welcoming audiences * Shelf Awareness *
Her every page looks exquisite, which is entirely fitting, given that this is a book about an artist. Alison is Posy Simmonds meets Edward Bawden - and really, what higher praise could there be? * Observer *
A vivid and moving book about friendship, art and making hard choices to stay on a creative path -- Sinéad Gleeson, author of Constellations
Alison absorbed, delighted and moved me with its quiet truthfulness. No shouting, no hatred, no bitterness-just a patient, determined tackling of the eternal question: how can a woman artist fight her way out of the back seat and get behind the wheel? -- Helen Garner
Lizzy's work is beautifully executed with an eye for composition, colour and fine detail * It's Nice That *
This book is a testament to the right to choose your own life. It is a tender, heartbreaking meditation on the bonds between women, the dazzle of the city, the struggle to become a female artist within the bounds of patriarchy, and the desire to make a mark on the world. It made me long for my friends; the dreams we have shared over the years and the ways in which they make the world feel possible. I want to give a copy to everyone I love. -- Jessica Andrews, author of Saltwater and Milk Teeth
A captivating new graphic novel that could have been dreamt up by Edna O'Brien and Judith Kerr of The Tiger Who Came To Tea fame, had they ever collaborated. * The Gloss Ireland *
What is it like to be a muse who is also an artist? Lizzie Stewart's Alison is a tender and powerfully precise work about class, gender, patriarchy and race in the art world of the late 20th century. And, like Alison's own paintings, its clear perspective on the wrongs of this world never overshadows its generous capacities for beauty, love and joy -- Joanna Walsh, author of Girl Online
Every now and again a book comes along that is such a bright joy, so true, so beautiful and moving. Alison is one of those books. I loved it -- Jessie Burton, author of The Miniaturist
Beautiful ... A coming-of-age tale with stunning artwork that will resonate with women everywhere * Red *
Alison's various relationships, which are few but complex, are beautifully drawn - both figuratively and literally - especially a friendship she strikes up with a female sculptor. And the author skilfully manages to tease out all the nuances of a life in a tale that, despite being as old as the hills, manages to feel fresh and relevant * the Crack *
A beautiful depiction of life as an artist, of the movements of love and time. I absolutely loved it. -- Megan Hunter, author of The End We Start From
Stewart does a wonderful job * Buzz Mag *
Alison is a marvel. A compassionate story of art, friendship, agency and desire, beautifully told through pictures and prose -- Chloë Ashby
A highlight ... subtle and sympathetic * Daily Telegraph *
Stewart's artwork is sensuous, lush and gorgeously textured. The best-looking book of the year * Herald *
Praise for It's Not What You Thought It Would Be: 'This brilliant debut collection explores the intensity of teenage ennui and female friendship, with a deft feel for its slights and tensions -- Rachel Cooke * Guardian *
Mournful, lovely ... Stewart's dynamic, warm, flowing art invites the reader in * The New York Times *
A quietly powerful book, and Stewart's well chosen and often witty dialogue goes straight to the heart. Her artwork is filmic and beautiful -- Isabel Greenberg, author of Glass Town
ISBN: 9781788169066
Dimensions: 220mm x 152mm x 16mm
Weight: 380g
176 pages