The Queen
Format:Paperback
Publisher:Bloomsbury Publishing PLC
Published:6th Jan '22
£12.99
Available for immediate dispatch.
This paperback is available in another edition too: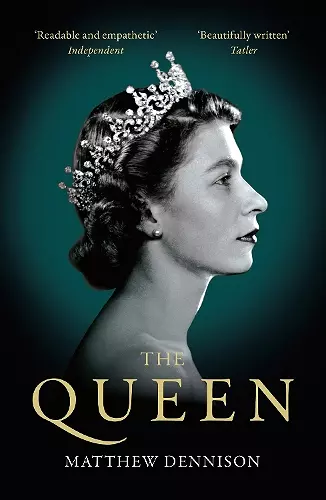 The magisterial life of the woman whose family's personal intrigues, romances and political rivalries have shaped much of post-war British history.
Matthew Dennison's elegant and magisterial biography of Her late Majesty, updated following the death of Elizabeth II and the accession of King Charles III. 'A worthy and balanced overview of the Queen's life. Dennison is especially good on her childhood... quietly, tactfully, tastefully reverent.'The Times The death of Queen Elizabeth II on 8 September 2022 was more than just a moment of profound sadness; her passing marked the end of an era in our national life – and the final closing of the Elizabethan Age. For millions of people, both in Britain and across the world, Elizabeth II was the embodiment of monarchy. Her long life spanned nearly a century of national and global history, from a time before the Great Depression to the era of Covid-19. Her reign embraced all but seven years of Britain's postwar history up to the accession of her son King Charles III; she was served by fifteen UK prime ministers from Churchill to Truss, and witnessed the administrations of fourteen US presidents from Truman to Biden. In this brand-new biography of the longest-reigning sovereign in British history, Matthew Dennison traces her life and reign across an era of unprecedented and often seismic social change. Stylish in its writing and nuanced in its judgements, The Queen charts the joys and triumphs as well as the disappointments and vicissitudes of a remarkable royal life; it also assesses the achievement of a woman regarded as the champion of a handful of 'British' values endorsed – if no longer practised – by the bulk of the nation: service, duty, steadfastness, charity and stoicism.
A worthy and balanced overview of the Queen's life. Dennison is especially good on her childhood... Quietly, tactfully, tastefully reverent' * The Times *
Anyone who wants a rapid, lucid, well-organised dash through the Queen's seven decades on the throne couldn't do better * Daily Telegraph *
An elegant new biography * OK! Magazine *
Dutiful and modest – a superb portrait of Her Majesty * Sunday Telegraph *
An engaging retelling of a remarkable life of selflessness and service * Choice Magazine *
[It] deftly weaves together a wealth of sources, painting the late monarch as a dedicated and humble public servant, with a pragmatic approach to her work * Independent *
This balanced and brilliantly written biography is an extremely detailed depiction of the Queen's life * Harper's Bazaar *
ISBN: 9781788545921
Dimensions: unknown
Weight: unknown
560 pages