The Green Man of Eshwood Hall
Format:Paperback
Publisher:Profile Books Ltd
Published:5th Oct '23
£9.99
Available for immediate dispatch.
This paperback is available in another edition too: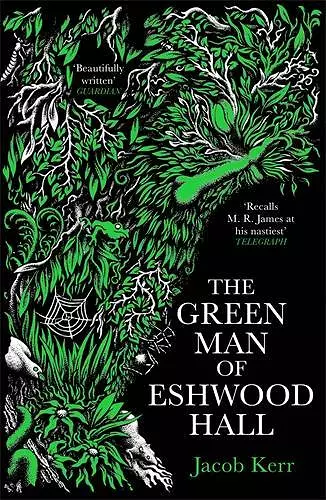 A devastating haunted-house novel published for the chilling-tales season
'Striking a perfect balance between myth and psychosocial realism, this is a beautifully written debut' Guardian 'Recalls M. R. James at his nastiest' Telegraph Eshwood Hall is a great English house surrounded by sprawling woods. In 1962, Izzy is thirteen, lives in the servants quarters and doesn't go to school. Neglected by her parents, she spends her moments of freedom exploring the forest and the village beyond. The more she comes to understand the history of the place and her own situation, the stranger are the things she hears and sees. The most tantalising of these is the Green Man who inhabits the woods, and seems to know all about her, even those desires she has buried deep inside. A family story rooted in folk tale, The Green Man of Eshwood Hall shows us the power that the wild still holds on our imagination, and the shocking nightmares to which it can give rise.
This evocative short novel is a work of folk horror, close in spirit to Alan Garner's fantasies rooted in the land . . . Striking a perfect balance between myth and psychosocial realism, this beautifully written debut is the first of a projected series set in an imaginary version of Northumberland * Guardian *
A doozy of a final twist that recalls M. R. James at his nastiest * Telegraph *
Delves deep into English folklore to tell a tale about childhood innocence floundering on the rocks of adult complexity. [Kerr] skilfully evokes a nation, its old certainties overturned by war, on the cusp of social upheaval and change * Financial Times *
A novel about vanity, selfishness and exploitation and the damage they do ... beautifully written and heart-breaking * Literary Review *
One of those books that enchant you to the point of distraction; so engrossing, you crave more precious reading time. [...] It offers the reader a classic adventure story, delivers ample scares and supernatural peril, and show that for all her real-world woes, the protagonist's life can still get infinitely worse. An absolute treasure of a novel, one that reminds you what a joy reading can be * Buzz Magazine *
Kerr's eco-horror preaches embracing rather than avoiding your fears. A terrifying prospect indeed * Irish Times *
Brimming with wonder and menace, The Green Man of Eshwood Hall is unnerving, unflinching and unputdownable. This is a story that possesses its readers dreamlike and yet utterly convincing * Nell Stevens, author of Briefly, A Delicious Life *
Lush and magical, softly creepy and ultimately shocking; Kerr is a born storyteller * Jenn Ashworth, author of Ghosted *
Elegant and unfussy prose * the Crack *
Kerr, a rare talent, has created something unique. A multi-genre piece, it draws on folk tales and stories of servants and masters, before infusing it with coming-of-age-style horror, to create something unlike anything the reader has read before... Truly unputdownable * Bookmunch *
Strange, disturbing, sometimes disorientating and more than a bit scary, with strong mythological elements, The Green Man of Eshwood Hall is the essence of folk horror. -- David Barrett * Fortean Times *
ISBN: 9781800811515
Dimensions: 196mm x 128mm x 4mm
Weight: 180g
224 pages