Closer
Format:Paperback
Publisher:Profile Books Ltd
Published:2nd Nov '23
£9.99
This title is due to be published on 2nd November, and will be despatched as soon as possible.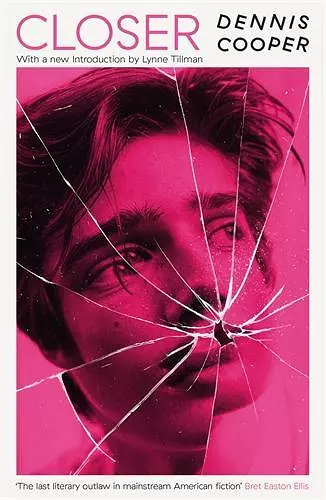 The brutally frank and daring gay classic from countercultural icon Dennis Cooper
With an introduction by Lynne Tillman 'The last literary outlaw in mainstream American fiction' Bret Easton Ellis Physically beautiful and strangely passive, George Miles attracts his fellow students' attention, like a wallet lying on the street. One after another, his teenage friends rifle through George, ransacking him for love, secrets or anything else they can plausibly extract. Closer follows the subterranean connections that drag George into the arms of men like John, an artist who drains his portraits of humanity in order to find what lies beneath; Alex, fascinated by splatter films and pornography; and Steve, an underground entrepreneur who turns his parents' garage into a nightclub. Boys and men pass George from hand to hand, fascinated by the nightmarish intensity of his detachment, but soon he will be confronted by desires he may find harder to endure. Closer is an unflinching exploration of the very limits of experience. Still shocking after more than two decades, here is a provocative classic that assaults the senses as it engages the mind.
Extraordinary. . . . One of the few new American writers with a completely distinctive voice -- Edmund White
A story about how desire can persist to the brink of self-destruction and beyond. . . . A work of considerable courage -- Thomas R. Edwards * The New York Review of Books *
Closer translates the moments and feelings for which we don't really have a vocabulary. Cooper taps the ineffable, the murky underside of sexual and human relations -- Lynne Tillman
An incredibly beautiful and daring book -- Kathy Acker
Dennis Cooper, God help him, is a born writer -- William S. Burroughs
Without a doubt one of the most vital and important writers to emerge in the past fifty years, and his genius goes far beyond mere taboo-breaking . . . Cooper's books are dissection tables of desire; they take a bone saw to the dreams, sexual fantasies, obsessions, youthful delusions, and myths of fame and individuality that have come to define our private and public selves' Interview * Interview *
A master of transgressive literature featuring all manner of minutely observed depravity . . . each novel is a brilliantly crafted piece of transgressive literature -- Tony O'Neill
His work belongs with the likes of Poe, the Marquis de Sade, Charles Baudelaire and Georges Bataille, other writers who argued with mortality. * San Francisco Chronicle *
Cooper is a profoundly original American visionary, and the most important transgressive literary artist since Burroughs . . . An American master * Salon *
ISBN: 9781800812895
Dimensions: 196mm x 128mm x 14mm
Weight: 140g
160 pages