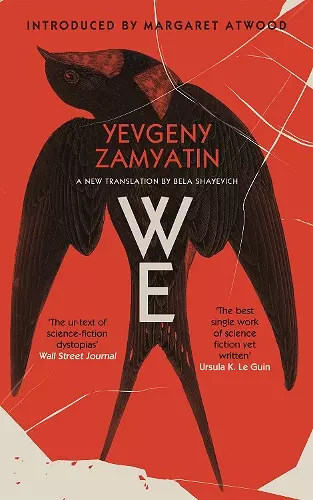 A radical new translation of the dystopian classic that influenced George Orwell and Aldous Huxley, introduced by Margaret Atwood
The One State is the perfect society, ruled over by the enlightened Benefactor. It is a city made almost entirely of glass, where surveillance is universal and life runs according to algorithmic rules to ensure perfect happiness. And D-503, the Builder, is the ideal citizen, at least until he meets I-330, who opens his eyes to new ideas of love, sex and freedom.

A foundational work of dystopian fiction, inspiration for both Orwell's Nineteen Eighty-Four and Huxley's Brave New World, WE is a book of radical imaginings - of control and rebellion, surveillance and power, machine intelligence and human inventiveness, sexuality and desire. It is both a warning and a hope for a better world.

This new edition also includes Ursula K. Le Guin's essay 'The Stalin in the Soul' on the enduring influence of Zamyatin's masterpiece, and George Orwell's 1946 review of WE.
The best single work of science fiction yet written -- URSULA K. LE GUIN
Two of the most iconic novels in the English language - Brave New World by Aldous Huxley and 1984 by George Orwell - owe an enormous debt to Zamyatin. We is the ur-text of science-fiction dystopias . . . the product of a powerful imagination * * Wall Street Journal * *
The prototype . . . Zamyatin is a major artist * * New York Times * *
This new edition, which contains Orwell's review as well as an introduction by Margaret Atwood, an afterword by Ursula Le Guin and an absorbing comment by the translator Bela Shayevich, who grew up in the former Soviet Union, will be the definitive version in English for the foreseeable future * * New Statesman * *
[A] fine new translation . . . In a market of competing editions . . . Shayevich's stands out, and for very good reason . . . truly excellent . . . Shayevich's [translation] retains the novel's bold, jagged, elemental energy [and] remains true to the spirit of the work in a way that the author himself would have applauded * * Times Literary Supplement * *

A seminal dystopian classic . . . This timely and thoughtful edition is a fitting tribute to book of lasting influence
* * Irish Times * *
It is in effect a study of the Machine, the genie that man has thoughtlessly let out of its bottle and cannot put back again -- GEORGE ORWELL
ISBN: 9781838850586
Dimensions: 220mm x 144mm x 29mm
Weight: 484g
304 pages
Main