(M)otherhood
On the choices of being a woman
Format:Hardback
Publisher:Canongate Books
Published:3rd Jun '21
£15.29 was £16.99
Available to order, but very limited on stock - if we have issues obtaining a copy, we will let you know.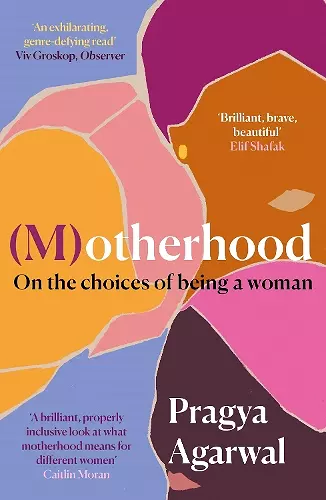 Part memoir and reflective analysis, Pragya Agarwal examines motherhood and fertility and how it shapes all our lives
'An exhilarating, genre-defying read' Observer, 'Beautiful' Elif Shafak, 'Absolutely sensational' Michael Cashman, CBE, 'Powerful and compelling' New Statesman', 'Brilliant' Caitlin Moran

In a world where women have more choices than ever, society nevertheless continues to exert the stigma and pressures of less enlightened times when it comes to having children. We define women by whether they embrace or reject motherhood; whether they can give birth or not.

Behavioural Scientist Pragya Agarwal uses her own varied experiences and choices as a woman of South Asian heritage to examine the broader societal, historical and scientific factors that drive how we think and talk about motherhood. She looks at how women's bodies have been monitored and controlled through history, and how this shapes the political constructs of motherhood and womanhood now.

Extremely open in its honesty and meticulously researched, (M)otherhood probes themes of infertility, childbirth and reproductive justice, and makes a powerful and urgent argument for the need to tackle society's obsession with women's bodies and fertility.
An exhilarating, genre-defying read . . . seamlessly interwoven with statistics, quotes and scientific evidence to clever narrative effect . . . reminiscent of Olivia Laing's writing on loneliness or the body . . . The whole thing adds up to the most thoughtful, empathic and inspiring science of the self -- VIV GROSKOP * * Observer * *
Absolutely sensational. Revelatory and of its time, challenging myths and ingrained perceptions. I could not put it down. Everyone should read this -- MICHAEL CASHMAN, CBE, co-founder of Stonewall
Brilliant, brave, beautiful . . . such an inspiring book -- ELIF SHAFAK
Riveting. Agarwal writes with searing honesty and tenderness about the joys and agonies of becoming a mother, of trying and failing to conceive again, and then of pursuing a route to motherhood that's widely seen as taboo . . . Agarwal writes beautifully about her own complicated experience * * Guardian * *
Intimate and insightful, Pragya Agarwal expands the meaning of the word motherhood in this brilliant book. This is urgent, essential reading for everyone -- AVNI DOSHI
A wide-ranging, searingly honest and timely intervention into the framing of a fundamental and fraught choice, as well as an impassioned defence of ambivalence as part of the human condition -- OLIVIA SUDJIC
(M)otherhood is a valuable step towards a literature that acknowledges the breadth and variety of the parenting experience and its cultural meanings. It is touchingly personal and brave -- ANGELA SAINI, author of Superior: The Return of Race Science
Powerful and compelling . . . Agarwal is a precise, elegant writer who seeks answers by embracing complexity * * New Statesman * *
A book about the disparate forces of duty, stereotypes, pressure, double standards and expectations forced upon women, Agarwal cuts through all of it to examine the multiplicity and complexity of motherhood in all its myriad forms. A moving, urgent and necessary read, ultimately it is a book about love -- LAURA BATES
Courageous, tender, painfully resonant and beautifully written - this is such a wise and generous exploration of womanhood and identity, and deserves to be read as widely as possible -- DAISY BUCHANAN
ISBN: 9781838853167
Dimensions: 220mm x 144mm x 35mm
Weight: 494g
384 pages
Main