Hysterical
Exploding the Myth of Gendered Emotions
Format:Paperback
Publisher:Canongate Books
Published:7th Sep '23
£10.99
Available for immediate dispatch.
This paperback is available in another edition too: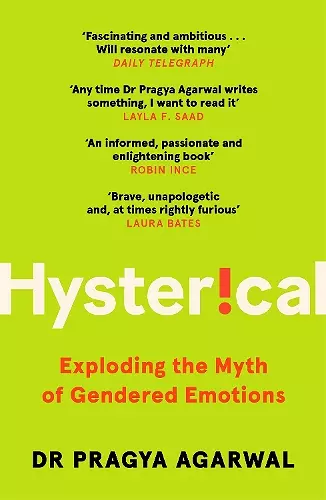 An urgent exploration of how the gendering of emotions came about, and what we can do to change these damaging stereotypes, by award-winning behavioural and data scientist Dr Prayga Agarwal
A WATERSTONES BEST BOOK OF 2022: POPULAR SCIENCE
AN iNEWS BEST NONFICTION BOOK OF 2022
A TELEGRAPH BIG IDEAS BOOK 2022

How we interpret emotions and act on them has been heavily gendered, as far back as Ancient Greek and Roman times, and - despite improvements in societal equality - continues to be today.

In Hysterical, Dr Pragya Agarwal delves into history and science to determine the truth about our notions of innate differences between the male and female experience of emotions. She examines the impact this has on men and women - especially the role it has played in the subjugation of women throughout history - and imagines how a future where emotions are ungendered might look.
In her latest fascinating book, Agarwal investigates the gendering of human emotions . . . The result is an impassioned and highly convincing book * * Observer * *
Agarwal debunks well-worn myths in this fascinating account of gendered emotions -- The Best Nonfiction Books of 2022 * * i * *
Are women really more emotional than men? Pragya Agarwal answer[s] precisely that question in almost all the ways it could be answered. Fun . . . Persuasive * * The Times * *
Analytical and wide-ranging . . . Agarwal reaches back to the medieval era to show how entrenched gender ideologies are in our society * * New Statesman * *
Fascinating and ambitious . . . Will resonate with many * * Daily Telegraph * *
Enlightening . . . [Agarwal] makes her point clearly [and] is at her best when relating the impact of gendered emotion on her personal life (something that comes up time and time again as the mother of twin girls), and making insightful pop culture references * * Independent * *
Any time Dr Pragya Agarwal writes something, I want to read it. Her words illuminate the hidden patterns of bias and therefore injustice that impact us. This book will make you question everything you thought you knew about emotions and make you want to reclaim your emotions as an integral part of your full humanity -- LAYLA F. SAAD, author of Me and White Supremacy
A necessary, thought-provoking book that demands we urgently rethink the terms of the debate on gender and emotion -- DR TIFFANY WATT SMITH, author of The Book of Emotions
Hugely readable and meticulously researched, Hysterical unpicks the myths, stereotypes and double standards that warp our judgments about the way men and women feel -- MARY ANN SIEGHART
Hysterical is absolutely fascinating. Like all of Pragya's work, this book is both robustly researched and deeply moving. In a whistle stop tour, she traces our gendered and misogynistic assumptions about male and female brains back thousands of years. She demonstrates how these stereotypes have been used throughout history both to create and to maintain a power imbalance. This book is brave, unapologetic and at times rightly furious . . . All emotions for which women have been labelled hysterical. Read this book and feel furious, uplifted and galvanised to take its findings out into the world and fight for change -- LAURA BATES, author of Men Who Hate Women
ISBN: 9781838853235
Dimensions: 198mm x 129mm x 28mm
Weight: 308g
464 pages