A Spell of Good Things
Format:Hardback
Publisher:Canongate Books
Published:9th Feb '23
£17.09 was £18.99
Available for immediate dispatch.
This hardback is available in another edition too: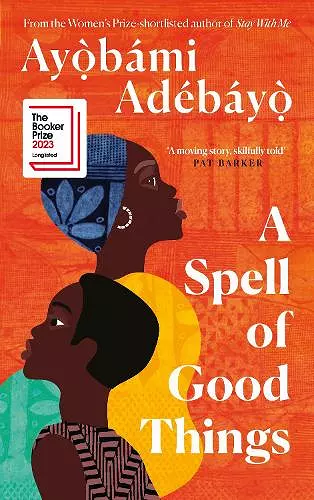 A spellbinding novel about family secrets and bonds, thwarted hope and the brutal realities of life in a society rife with inequality, from the Women's Prize-shortlisted author
MOST ANTICIPATED BOOK OF 2023: the Observer, Guardian, Financial Times, Stylist, the Express and Oprah Daily

Ayòbámi Adébáyò, the Women's Prize-shortlisted author of Stay With Me, unveils a dazzling story of modern Nigeria and two families caught in the riptides of wealth, power, romantic obsession and political corruption.

Eniola is tall for his age, a boy who looks like a man. His father has lost his job, so Eniola spends his days running errands for the local tailor, collecting newspapers and begging, dreaming of a big future.

Wuraola is a golden girl, the perfect child of a wealthy family. Now an exhausted young doctor in her first year of practice, she is beloved by Kunle, the volatile son of family friends.

When a local politician takes an interest in Eniola and sudden violence shatters a family party, Wuraola and Eniola's lives become intertwined. In this breathtaking novel, Ayòbámi Adébáyò shines her light on Nigeria, on the gaping divide between the haves and the have-nots, and the shared humanity that lives in between.
A moving story, skilfully told, about Eniola, a boy whose future has been snatched away from him, and Wuraola, a talented, overworked junior doctor, whose intertwined narratives combine to produce an insightful portrait of an unequal and deeply divided society moving towards a terrible crisis. A Spell of Good Things is both gripping and memorable -- PAT BARKER
An outstanding read -- ANITA RANI * * BBC Radio 4 Woman's Hour * *
Heart-rending . . . a breeze to read, despite the weightiness of its subject matter . . . Adebayo handles her characters with empathy and nuance, showing their vulnerabilities, yearnings, shame and delusions * * Financial Times * *
Compelling . . . This immensely readable novel is a blistering indictment of the abuse of power (political and domestic) and the ubiquitous violence that can destroy lives overnight * * Observer * *
Adebayo humanizes those sucked into the vortex of [. . . ] power with striking compassion - the characters' misjudgments and delusions are deeply and empathetically imagined, wholly alive * * New York Times * *
Couldn't be more timely. It's as much about politics as it is a story of toxic relationships, coming of age, and finding the courage to do the right thing -- AFUA HIRSCH
A portrait of domestic strife and political tensions in Nigeria -- Michael Donkor * * Guardian * *
Spellbinding . . . Beautiful writing and a story that we found truly unforgettable * * Glamour UK * *
A triumph . . . a shrewdly-observed, intricate story about power, politics, and poverty, and one which renders Nigeria in high-definition colour * * i * *
Adebayo has a gift for writing convincing characters and she skilfully weaves together the domestic and political . . . [A Spell of Good Things's] ending packs a punch that's hard to forget * * Daily Express * *
Short-listed for People's Book Prize – Fiction 2023 (UK)
ISBN: 9781838856045
Dimensions: 220mm x 144mm x 33mm
Weight: 464g
352 pages