Because I Don't Know What You Mean and What You Don't
Format:Hardback
Publisher:Canongate Books
Published:25th May '23
£16.99
Available for immediate dispatch.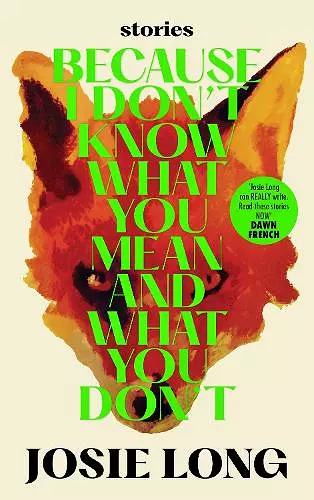 The frank, funny fiction debut collection from award-winning comedian and broadcaster Josie Long
From a comic mastermind comes this brilliant collection of stories

Three teenagers believe they are witches.
A woman defaces a local billboard.
A bored landlord tries to influence his son's best friend.
A cul-de-sac WhatsApp group discusses eggs at length.
A heavily pregnant woman finds a way to time travel and a girl discovers joy on a stolen bicycle . . .

Each tale paints a life in miniature and offers an escape chute from the mayhem of modern life.
Josie Long can REALLY write. Read these stories NOW -- DAWN FRENCH
Her writing is miraculous. A dazzling debut -- JOANNA LUMLEY
Josie's stories are like her comedy - beautifully observed, strange, good-hearted, unsettling and truly funny. Read them immediately -- A. L. KENNEDY
I loved this short story collection. Funny, poignant, daft, and occasionally even hilariously cynical -- FRANKIE BOYLE
Josie's writing is everything I love about her stand-up: sharp and smart, hilarious and incisive, infused with love for the world and the complicated people who live in it. A joy to read -- MONICA HEISEY
Josie Long is my favourite comedian and when reading these stories, all the cynicism I've acquired gets replaced by the enthusiasm I felt the first time I saw her live -- JAMES ACASTER
Josie Long's first collection reveals a natural gift with a frank and poignant tale; teenage experience, community WhatsApp groups and broken family units are picked apart with a wry cynicism at the weirdness and cruelty of life . . . makes for an approachable debut full of heart and hope * * Observer * *
Josie's stories are tender, devastating and hilarious, often all at the same time. Opening up this book is like skinny-dipping in the brain of a genius - I never wanted to come up for air -- SOPHIE DUKER
No-one manages to mix the profound with the funny quite like Josie Long. She's not just the voice of a generation, she's it's head and heart too. Her writing is exquisite, her performances invigorating and inspirational. I could not love this woman more. She's just the best -- BRIDGET CHRISTIE
I knew this book would be funny and relatable. I didn't know it would also be angry, heartbreaking and knife-sharp. I love these stories -- KIRSTY LOGAN
Long-listed for Comedy Women in Print Prize 2023 (UK)
ISBN: 9781838856083
Dimensions: 220mm x 144mm x 23mm
Weight: 328g
208 pages
Main