Because I don't know what you mean and what you don't
Format: Hardback
Publisher: Canongate Books
Published: 25th May '23
£16.99
This title is due to be published on 25th May, and will be despatched as soon as possible..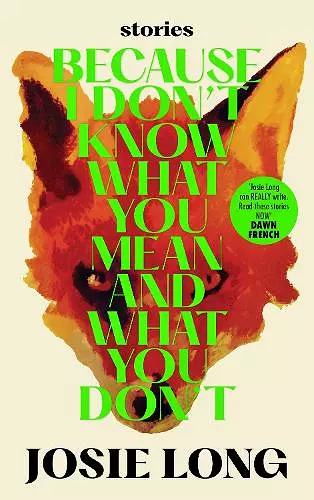 The frank, funny fiction debut collection from Josie Long, the award-winning comedian and broadcaster
From a comic mastermind comes this brilliant collection of stories

Three teenagers believe they are witches.
A woman defaces a local billboard.
A bored landlord tries to influence his son's best friend.
A cul-de-sac WhatsApp group discusses eggs at length.
A heavily pregnant woman finds a way to time travel and a girl discovers joy on a stolen bicycle . . .

Each tale paints a life in miniature and offers an escape chute from the catastrophes of modern life.
Josie Long is my favourite comedian and when reading these stories, all the cynicism I've acquired gets replaced by the enthusiasm I felt the first time I saw her live -- JAMES ACASTER
Josie's writing is everything I love about her stand-up: sharp and smart, hilarious and incisive, infused with love for the world and the complicated people who live in it. A joy to read -- MONICA HEISEY
Long-listed for Comedy Women in Print Prize 2022/23 (UK)
ISBN: 9781838856083
Dimensions: unknown
Weight: unknown
208 pages
Main