Lazy City
Format:Hardback
Publisher:Canongate Books
Published:24th Aug '23
£16.99
Available for immediate dispatch.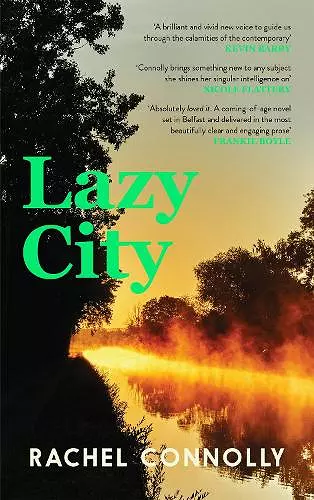 An electrifying debut set in Northern Ireland exploring dysfunctional relationships, love and heartbreak as a young woman grieves the loss of her best friend
Following the death of her best friend, Erin has to get out of London. Returning home to Belfast, an au pair job provides a partial refuge from her grief and her volatile relationship with her mother. Erin spends late nights at the bar where her childhood friend Declan works. There Erin meets an American academic who is also looking to get lost. Parallel to this she reconnects with an old flame, Mikey. This brings its own web of complications.

With a startlingly fresh and original voice - jarringly funny, cranky, often hungover - Lazy City depicts the strange, meandering aftermath that follows disaster.
Here is a debut to savour, a brilliant and vivid new voice to guide us through the calamities of the contemporary -- KEVIN BARRY
It's also a novel about trauma and its aftermath: again, a common theme today, but done sophisticatedly here, with a quality of thinking rare in a debut . . . Connolly gives Erin a dry, wry voice, and one that's frequently very funny . . . Lazy City exhibits an understanding of the importance of our homeland as the container that shapes us . . . I felt better after reading this book. Connolly is a writer in whom I have faith -- JOHN SELF * * Daily Telegraph * *
Somehow both tightly controlled and highly spontaneous, Rachel Connolly's Lazy City is refreshingly open to the world. Frank, attentive, free of artifice or emotional contrivances, Connolly brings something new to any subject she shines her singular intelligence on -- NICOLE FLATTERY
A skilful, expressive and subtly subversive debut * * Irish Times * *
A compelling exploration of grief, uncertainty and disappointment, and a convincing portrait of Belfast's normalisation, such as it is. Indeed, where a Troubles novel might have foregrounded trauma, Connolly focuses instead on the impact of more ordinary, but still devastating, loss * * Irish Independent * *
Absolutely LOVED IT. A coming of age novel set in Belfast and delivered in the most beautifully clear and engaging prose -- FRANKIE BOYLE
Connolly's incisive debut novel conveys the quiet desperation of a generation facing economic instability and career uncertainty, compounded by the climate crisis . . . a nuanced portrait of her home city * * Observer * *
A timely coming-of-age novel * * Daily Mail * *
In the wry and compassionate Lazy City, Rachel Connolly deftly captures both the intoxicating chaos and listlessness of young adulthood, when life seems both full of possibility and impossibly elusive -- COLIN BARRETT
This restless, big-hearted, accomplished novel examines the delicate, elaborate fabric of communication after grief. In a voice that is skirting, comic and attentive, Lazy City embodies the traits I admire in Rachel Connolly's writing: its charisma, nervous energy and verve -- LUCIE ELVEN
ISBN: 9781838859664
Dimensions: 220mm x 144mm x 28mm
Weight: 403g
288 pages