Backstop Land
Format:Paperback
Publisher:Bloomsbury Publishing PLC
Published:31st Oct '19
£13.99
Available to order, but very limited on stock - if we have issues obtaining a copy, we will let you know.
This paperback is available in another edition too: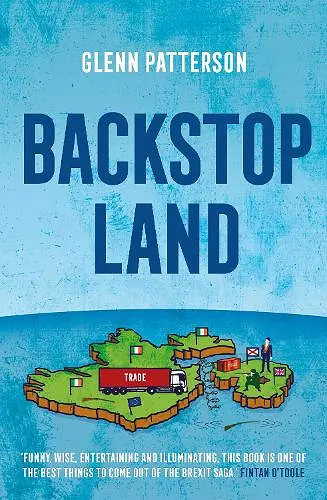 A witty and impassioned book on Ulster, which has been thrust into the centre of British and European politics and which is likely to become Britain's frontier with the wider world.
'Funny, wise, entertaining and illuminating, this book is one of the best things to come out of the Brexit saga' FINTAN O'TOOLE.
'Read this absorbing book to understand why, since 2016, we have been playing with fire. There is no longer any excuse for ignorance' MISHA GLENNY.
Northern Ireland's frontier with the South has been an invisible line since the peace agreement of 1998. Now the battle over the UK's decision to leave the EU risks turning it into a hard border. Yet few people in the rest of Britain (or Ireland) know anything much about this most volatile part of an increasingly disunited Kingdom.
This book was written in the feverish summer of 2019, in the aftermath of the 'New' IRA's murder of Lyra McKee, with the fear and anxiety of Brexit looming over a region in which paramilitary forces are still carrying out beatings, and worse, even as the numbers of tourists drawn by the Titanic and Game of Thrones continue to grow.
The power-sharing government created by the Good Friday Agreement has not met – a bleak record in a long-running farce – in over 1,000 days. If it wasn't for the wonderful weather you might wonder why anyone stayed there at all.
Glenn Patterson brings a lifetime's engagement with Northern Ireland and a brilliant novelist's eye to an informative, darkly entertaining portrait of a fragile country.
Welcome to Backstop Land.
'Vivid, biting passages ... This is brave stuff ... Read it [...] and you'll understand who these people are. And why peace in Ireland matters' The Times.
'At times an amusing read, thoughtful but informal throughout, drawing you into intellectual company that is still not above deadpan sarcasm' Sunday Times Ireland.
'Designed to delight and instruct ... Readers in Britain and Ireland will find insights here that challenge the platitudes circulating in the current crisis ... An entertaining drama about the whole conundrum of political representation' Irish Times.
'Witty and wise, reading Patterson is like walking into a Belfast pub for lunch and falling into a conversation so good you stay until chucking out time' The Spectator.
'Informative and entertaining in equal measures ... It's a tragicomic story that Patterson negotiates with care, poking fun at the Byzantine absurdities of the Northern Irish political culture without ever allowing his treatment of the terrible death toll to seem flippant' Herald.
'Brings much insight, clarity and often piercing wit to explaining Northern Ireland' Irish Independent.
ISBN: 9781838932022
Dimensions: unknown
Weight: unknown
240 pages
Flapped Paperback