How to Read Now
Format:Paperback
Publisher:Atlantic Books
Published:1st Jun '23
£10.99
Available to order, but very limited on stock - if we have issues obtaining a copy, we will let you know.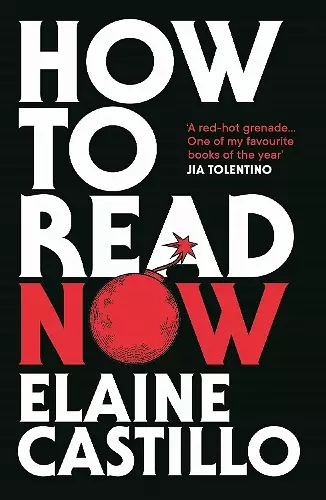 'I cannot say enough about How to Read Now... Check it out' Roxane Gay
'A red-hot grenade... One of my favourite books of the year' Jia Tolentino
'Energetically brilliant, warmly humane, incisively funny' Andrew Sean Greer
'I gasped, shouted, and holler-laughed . . . Phenomenal' R.O. Kwon
'A wake-up call. A broadside. A rich and brilliant war cry' Chris Power

How many times have we heard that reading builds empathy? That we can travel through books? How often have we were heard about the importance of diversifying our bookshelves? Or claimed that books saved our lives? These familiar words - beautiful, aspirational - are sometimes even true. But award-winning novelist Elaine Castillo has more ambitious hopes for our reading culture, and in this collection of linked essays, she moves to wrest reading away from the aspirations of uniting people in empathetic harmony and reposition it as thornier, ultimately more rewarding work.

How to Read Now explores the politics and ethics of reading, and insists that we are capable of something better: a more engaged relationship not just with our fiction and our art, but with our buried and entangled histories. Smart, funny, galvanizing, and sometimes profane, Castillo attacks the stale questions and less-than-critical proclamations that masquerade as vital discussion: reimagining the cartography of the classics, building a moral case against the settler colonialism of lauded writers like Joan Didion, taking aim at Nobel Prize winners and toppling indie filmmakers, and celebrating glorious moments in everything from popular TV like The Watchmen to the films of Wong Kar-wai and the work of contemporary poets like Tommy Pico.

At once a deeply personal and searching history of one woman's reading life, and a wide-ranging and urgent intervention into our globalized conversations about why reading matters today, How to Read Now empowers us to embrace a more complicated, embodied form of reading, inviting us to acknowledge complicated truths, ignite surprising connections, imagine a more daring solidarity, and create space for a riskier intimacy - within ourselves, and with each other.
Masterly... A book that doesn't seek to shut down the current literary discourse so much as shake it up * New York Times *
Each of the book's eight essays burns bright and hot from start to finish... It's a way of seeing and reading that demands so much more of us but offers even more in return * Los Angeles Times *
Laser-sharp and devastating... A wake-up call * San Francisco Chronicle *
Essays destined to become classics * The Millions *
Tosses a bomb into our tired cultural conversations around reading and empathy to ask tougher and more urgent questions * Chicago Review of Books *

Blazingly fearless... Castillo is hugely talented
* Observer *
Castillo's How To Read Now took my breath away. Energetically brilliant, warmly humane, incisively funny, it whips the tablecloth from under the setting of contemporary reading, politics and intellectual culture in a literary act of daring. It seems there is nothing Castillo can not do. Read How to Read Now now.
* Andrew Sean Greer, Pulitzer Prize -winning author of Less *
I gasped, shouted, and holler-laughed while reading these essays from the phenomenal Elaine Castillo. What powerful writing, what a rigorous mind. For as long as I live, I want to read anything Castillo writes, and you probably do, too.
* R.O. Kwon, author of The Incendiaries *
How To Read Now is a powerful punch in criticism's solar plexus: Castillo's take as the 'unexpected reader' is what literature needs now, both an absolute bomb and a balm-a master class in the art of reading. Her art is a corrective and a curative but also just a joy-humorous, insanely erudite, and absolutely necessary for our times.
* Gina Apostol, author of Gun Dealer's Daughter *
How to Read Now is a wake-up call. A broadside. A rich and brilliant war cry. Elaine Castillo exposes the inadequacy of thinking about books as empathy machines, arguing instead for a type of reading that accepts responsibility and implication; reading as a radical act of awareness and allyship.
* Chris Power, author of A Lonely Man *
A radiant, irreverent, rigorous and revolutionary act of reading. Elaine Castillo is on fire and this book, a work of generous cultural stewardship, performs a much-needed, controlled burning.
* Olivia Sudjic, author of Asylum Road *
Exciting, important and energising, How to Read Now is the book we need now: a clarion call for decentering whiteness and for a truly decolonised publishing, critical, and reading culture. It reaffirms that writers of colour are here; we are here to hold power to account; we are here to read each other and cheer for each other; we are here to stay. I am so grateful for Elaine Castillo's beautiful mind, and for this vital and moving book.
* Preti Taneja, author of Aftermath *
Funny, smart, brilliant, How to Read Now is a tour de force. Castillo skewers popular thought around reading, suggesting a new way forward, in sharp and incisive prose. I'll never read Didion the same way again.
* Kasim Ali, author of Good Intentions *
The essays are funny, intelligent, and said all the things I had been waiting for someone to say and more. I loved being in Elaine's brain, as well as her deeply humane commitment to encourage us all to step outside ourselves and see the world - and one another other - anew.
* Rebecca Liu *
I cannot say enough about Elaine Castillo's How to Read Now... Check it out
* Roxane Gay, on Twitter *
A red-hot grenade... One of my favourite books of the year
* Jia Tolentino, on Instagram *
ISBN: 9781838954956
Dimensions: 198mm x 129mm x 24mm
Weight: 317g
352 pages