Children of Paradise
Longlisted for the Women's Prize for Fiction 2023
Format:Hardback
Publisher:Atlantic Books
Published:7th Jul '22
£14.99
Available for immediate dispatch.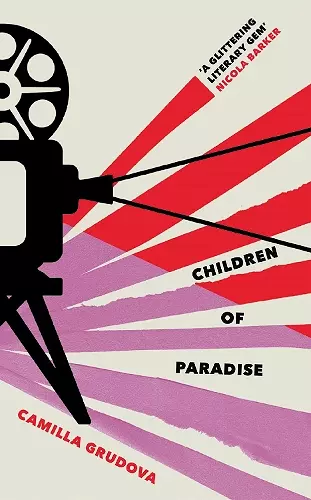 'Festers in glorious style' Telegraph

'Magnificently spiky' Guardian

'Utterly enthralling' Times Literary Supplement

When Holly applies for a job at the Paradise - one of the city's oldest cinemas, squashed into the ground floor of a block of flats - she thinks it will be like any other shift work. She cleans toilets, sweeps popcorn, avoids the belligerent old owner, Iris, and is ignored by her aloof but tight-knit colleagues who seem as much a part of the building as its fraying carpets and endless dirt. Dreadful, lonely weeks pass while she longs for their approval, a silent voyeur.

So when she finally gains the trust of this cryptic band of oddballs, Holly transforms from silent drudge to rebellious insider and gradually she too becomes part of the Paradise - unearthing its secrets, learning its history and haunting its corridors after hours with the other ushers. It is no surprise when violence strikes, tempers change and the group, eyes still affixed to the screen, starts to rapidly go awry...
An immersive, hallucinatory read set in a crumbling old cinema where the real and the imagined collide in fantastical fashion. * Irenosen Okojie, Judge, Women's Prize for Fiction *
One of Britain's best young short story writers... eerie... festers in glorious style... there's nothing vanilla in the dark of the Paradise, and even when the corporate takeover comes, complete with managerial drone, it all feels smooth and unearthly - an allegory for lost stories, youth and time. * The Telegraph *
There's a strange, tortured beauty to Children of Paradise... Grudova has created a magnificently spiky commentary on the detrimental nature of work hierarchies and zero-hours contracts. * Guardian *
Fluent and transporting... utterly enthralling * TLS *
A remarkable and memorable achievement. To combine the gothic, the carnivalesque, the ghastly and the sublime in a relatively slender novel shows considerable talent indeed. * Scotland on Sunday *
What commends Children of Paradise... is the deft hand of an auteur at work. * Financial Times *

Camilla Grudova is Angela Carter's natural inheritor. Her style is effortlessly spare and wonderfully seductive. Read her! Love her! She is sincerely strange - a glittering literary gem in a landscape awash with paste and glue and artificial settings.
* Nicola Barker, author of Darkmans *
Grudova understands that the best writing has to pull off the hardest aesthetic trick - it has to be both memorable and fleeting.
* Deborah Levy, author of Hot Milk *
It's easy to write what everybody else writes and that's not what Camilla Grudova is doing. ... We need work like this in the world.
* Sinead Gleeson, Arena RTE Radio 1 *
The Paradise, a festering and dilapidated cinema, is the perfect ground for Camilla Grudova's filthy, grotesque and exquisitely kaleidoscopic talent. Peeping under the stained red curtain, we meet a cast of ramshackle characters: bloody, bejewelled, debauched and sucking ferociously on cigarette butts - this uniquely eccentric troop of misfits could only have been drawn by Grudova.
Children of Paradise
is a linguistic joy, an ode to a by-gone era of cinema and, above all, a wonderfully alive carnival of peculiarity. * Alice Ash, author of PARADISE BLOCK *
I used to work at an independent cinema that was a lot like the Paradise - full of sticky floors and strange atmospheres and rumours of secret screens.
Children of Paradise
is a haunting love letter to that work, and to film itself. The world Grudova conjures here is both
delightful and disturbing
, textured by the rich details that make her stories in
The Doll's Alphabet
so distinctive: stolen trinkets, brooches and ticket stubs; cocktails crafted with pickled eggs and maraschino cherries.
Intimate and claustrophobic, Children of Paradise captures all the dark enchantment that comes with slipping in and out of movie screens for a living.
* Laura J Maw *
Brilliant in the way only Camilla Grudova can be brilliant.
Capitalism, cinema, strangeness - everything you hope it will be.
* Heather Parry, author of ORPHEUS BUILDS A GIRL *
Gloriously disgusting, bloody, alluring - an ode to a vanishing world of filthy, gaudy independent cinemas and the curious souls who work there. One for any fan of their local fleapit. * Helen McClory, author of BITTERHALL *
A weird and haunting examination of the slow decay of the old ways, and the sly encroachment of careless, brave new worlds... A wry cautionary tale for cinema lovers, revealing the rotten core behind the creative industries, the grubby death knell of artistic romanticism. It is, in both senses, an entirely revolting work. * The Skinny *
An enjoyable satire on film culture and labour exploitation * Literary Review *
ISBN: 9781838956318
Dimensions: 216mm x 135mm x 14mm
Weight: 362g
208 pages
Main