Bitterthorn
Shortlisted for the Nero Book Award
Format:Paperback
Publisher:Andersen Press Ltd
Published:4th May '23
£8.99
Available to order, but very limited on stock - if we have issues obtaining a copy, we will let you know.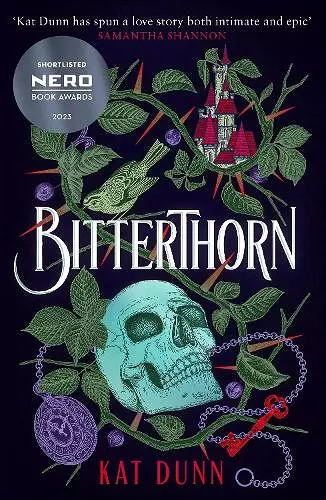 Nominated for the Carnegie Medal for Writing Shortlisted for the Nero Book Award A darkly seductive sapphic Gothic romance inspired by classic fairytales like Beauty and the Beast. 'Kat Dunn has spun a love story both intimate and epic' SAMANTHA SHANNON, author of The Priory of the Orange Tree 'A deliciously dark fairy tale full of the agony and ecstasy of longing and desire' KATHERINE WEBBER, author of Twin Crowns Blumwald is a town overshadowed by an ancient curse: in a sinister castle in the depths of the wild wood lives a monstrous Witch. Once a generation, she comes to claim a companion to return with her – never to be seen again. Now that time is drawing near once more... Mina, daughter of the duke, is grieving and lonely. She has lost all hope of any future for herself in Blumwald. So when the Witch demands her next companion, Mina offers herself up – though she has no idea what fate awaits her. Stranded with her darkly alluring captor, the mystery of what happened to the previous companions draws Mina into the heart of a terrifying secret that could save her life, or end it.
"Deliciously gothic... Dunn plays on fairytale conventions to create a lush, atmospheric story of curses, belonging and betrayal with a slow-burn love story at its heart" * Observer *
"Kat Dunn has spun a love story both intimate and epic. Bitterthorn is a perfect fireside tale, thick with suspense, yearning, and wild beauty – I loved every moment of reading it" -- Samantha Shannon
"A stunning meditation on loneliness, with nods to Jane Eyre, Angelina Jolie's Maleficent and Naomi Novik's Uprooted" * Good Housekeeping *
"This dazzling YA gem melds a thrilling high-stakes fairy tale scenario with suspenseful, slow-burn Sapphic romance" * LoveReading4Kids *
"A haunting, atmospheric tale of two lost souls finding each other, and a love that will remake the world. Exquisite" -- Shelley Parker-Chan * Sunday Times bestselling author of She Who Became the Sun *
"Bitterthorn is beautiful and haunting – the type of story that seeps into your bones and stays with you long after reading. Kat Dunn has spun a deliciously dark fairy tale full of the agony and ecstasy of longing and desire, as well as celebrating the power of resilience and inner strength" -- Katherine Webber * Sunday Times bestselling author of Twin Crowns and The Revelry *
"A moody and stylish Gothic tale that feels both fresh and timeless – a masterful meditation on grief, loneliness, and terrible love. Gutting and unforgettable" -- Ava Reid * Sunday Times bestselling author of The Wolf and the Woodsman *
"Both classic and novel, melancholy and tenderly wrought, Bitterthorn crackles with passion and warmth like a fire on a long winter night. With achingly atmospheric prose, Dunn has crafted characters I would die for and a love story as powerful and enduring as a fairytale. A must-read for fans of Gothic romance" -- Allison Saft * New York Times bestselling author of A Far Wilder Magic *
"Girl meets house. Girl meets witch. And oh, does it ever get deliciously interesting from there! Dunn has created a delicately spun cobweb of a fairytale that slowly unwinds a pattern of secrets, curses, love and betrayal – and finally settles around your heart and leaves you glad to have been captured" -- Freya Marske * Sunday Times bestselling author of A Marvellous Light *
"Bitterthorn tugged on the threads of my heartstrings until I had nothing left to give it but my soul. Hauntingly beautiful, this Gothic fairytale lingers in the darkest corners of my mind forever more. A triumph" -- Saara El-Arifi * Sunday Times bestselling author of The Final Strife *
Short-listed for Nero Book Award - Children's Fiction (UK).
ISBN: 9781839132957
Dimensions: 198mm x 129mm x 22mm
Weight: 293g
368 pages