A Breath on Dying Embers
A D.C.I. Daley Thriller
Format:Paperback
Publisher:Birlinn General
Published:11th Jul '19
£8.99
Available for immediate dispatch.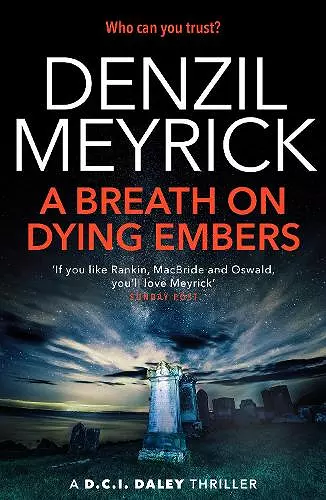 LONGLISTED FOR THE MCILVANNEY PRIZE 2019
From the pen of the biggest selling crime writer published in Scotland...
When the luxury cruiser, hastily renamed Great Britain, berths in Kinloch harbour, the pressure is on DCI Jim Daley. The UK Government are taking a high-powered group of businessmen and women on a tour of the British isles, golfing and seeing the sights, as part of a push for global trade. But when one of the crew goes missing , and an elderly local ornithologist disappears, will the pressure become too great?
The arrival of a face from the past, sends Daley's world into a tailspin. And the lives of the passengers and crew of SS Great Britain, as well as the country's economic future are in jeopardy. DS Brian Scott comes to the fore, and replete with a temporary promotion, is once more - most reluctantly, in his case - back at sea.
Daley faces a life and death struggle, but is this his last throw of the dice?
'A great read…characterisation is extremely well delivered, the loud-mouthed, somewhat comedic Scott, and the likeable, dependable Daley, local colour is added by a cast of interesting residents, whose far from simple lives seem at odd with the picture postcard place they inhabit'
* Undiscovered Scotland *
'Meyrick has a light touch other crime writers don't have. Highly readable and enjoyable'
-- Chris MacCall * Scotland on Sunday *
'Exemplary – humour and a high stakes threat'
* Herald *
'There's darkness, and there's an awful lot of gut-roaring laughter and light too, making for an exceptional read. There are themes that will strike a chord with everyone who reads it. Meyrick's gift is to write visceral prose in a way that hits home and feels all too real and to combine it with superb, layered plotting'
* LiveandDeadly.net *
'This is visceral reading – you feel it before you think it'
* Sunday Post *
'Plotting that mystifies, captivating characters and spectacular locations: the essentials, and A Breath on Dying Embers overflows with all three. The Gold Dagger awaits'
* Quentin Jardine *
'Jim Daley and Brian Scott are like a fine cask whisky. They improve each and every year. What a fabulous read, compelling to the very end.  For me the best in the series so far. I found some laugh out loud moments and others reaching for the tissues. The ending was unexpected and I did not see it coming. Time to pre-order now'
-- David Gilchrist, Founder of UK Crime Book Club
'An enthralling read from the provocative prologue through to the whammy of a final chapter… a rewarding, satisfying read and fabulous addition to the series'
* LoveReadi
Long-listed for The McIlvanney Prize 2019 (UK)
ISBN: 9781846974755
Dimensions: 196mm x 128mm x 28mm
Weight: 300g
432 pages