Habana año cero
Format:Paperback
Publisher:Charco Press
Published:2nd Nov '21
Should be back in stock very soon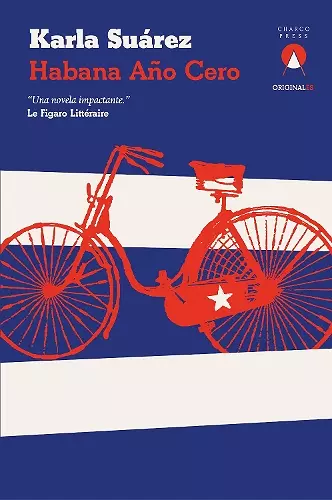 Sexo, mentiras e historia científica convergen en La Habana en el año 1993.
"Era como si hubiéramos alcanzado el punto crítico mínimo de una curva matemática. ¿Tiene presente una parábola? El cero de abajo, el hueco, el abismo. Hasta ahí llegamos."Corre el año 1993. Cuba está en lo más álgido del Período Especial, un profunda crisis económica tras el colapso del bloque soviético.Para Julia, una profesora de matemática que detesta enseñar, La Habana está en su año cero: el punto más bajo, camino a ninguna parte. Desesperada por tomar las riendas de su vida, Julia se une a Euclides, su colega y ex amante, para emprender la búsqueda del documento que compruebe que el teléfono fue inventado por Antonio Meucci, en La Habana. Creen que esta es la respuesta para proteger su reputación y darle a Cuba un nuevo propósito.A partir de este punto cero, Julia da inicio a una investigación que la acercará a dos hombres que prometen guiarla hasta el documento, y que la verá involucrada en un enredado misterio de pasión, legados familiares y las complejidades de cómo la gente encuentra maneras de sobrevivir en un país que vive la más terrible de sus crisis. 
"It was as if we'd reached the minimum critical point of a mathematical curve. Imagine a parabola. Zero point down, at the bottom of an abyss. That's how low we sank."
The year is 1993. Cuba is at the height of the Special Period, a widespread economic crisis following the collapse of the Soviet bloc.For Julia, a mathematics lecturer who hates teaching, Havana is at Year Zero: the lowest possible point, going nowhere. Desperate to seize control of her life, Julia teams up with her colleague and former lover, Euclid, to seek out a document that proves the telephone was invented by Antonio Meucci in Havana, convinced it is the answer to secure their reputations and give Cuba a purpose once more.From this point zero, Julia sets out on an investigation to befriend two men who could help lead to the document's whereabouts, and must pick apart a tangled mystery of sex, family legacies and the intricacies of how people find ways to survive in a country at its lowest ebb.
Sex, lies, and scientific history collide in 1993 Havana.
It...
English PEN (Award)
Carbet de la Caraïbe et du Tout-monde (Winner)
Insular Book Award (Winner)
"Una lectura tremendamente disfrutable." —Irish Times
"Un recorrido sereno, atractivo y ágilmente trazado a través de una ciudad y una cultura resilientes. (4 estrellas)" " —The Arts Desk
"A medio camino entre la novela histórica, la comedia de enredos y la novela de misterio, Karla Suárez consigue retratar con extraordinaria voluptuosidad y sugerencia uno de los tiempos más duros de la isla caribeña ." —El Mundo
"'El nombre de la rosa' estilo cubano (...) Una obra maestra." —Marie Claire
"Una novela impactante." —Le Figaro Littéraire
"Un misterio brillante e intenso." —BookBlast
"Habana año cero es como una muñeca mamushka rusa; sus diversas capas encajan entre sí de una manera firme y gratificante." —Lunate
"Una demostración magistral e innovadora de la narración en primera persona." —Reading in Translation
"Una historia de detectives deliciosamente atípica." —Shiny New Books
"La prosa afilada y atractiva de Suárez se abre paso desde una voz narrativa clara y auténtica." —Necessary Fiction
"Extravagante, conmovedora y muy relevante para el contexto contemporáneo." —Lucy Writers
"La prosa de Suárez –y la traducción de Christina MacSweeney– es coloquial, está hermosamente escrita y consigue evocar a La Habana maravillosamente como una ciudad en crisis pero no en situación de perdición total." —The Sock Drawer
"Suárez aplica a Cuba la teoría del caos." —Le Temps
"Una novela brillante, alegre y hermosa." —Leer
"Con un lenguaje incisivo y sobrio, Suárez retrata un país devastado por la crisis económica, donde los cubanos deben luchar y soñar día a día para transformar su vida en algo soportable." —Le Matin d'Algérie
"La trama original, narrada como una adivinanza matemática, y el retrato apocalíptico de La Habana de 1993 son dos de los grandes atractivos de esta novela." —La Libre Belgique
"Su escritura cuenta con ingredientes característicos de la buena literatura: una buena historia, con ritmo y fluidez, pero también con sensibilidad, elegancia, inteligencia y sentido del humor." —Duas margens
ISBN: 9781913867089
Dimensions: unknown
Weight: unknown
256 pages