Vista Chinesa
'Sits somewhere between the experimental novels of Eimear McBride and Leila Slimani's more shocking output' – The Sunday Times
Tatiana Salem Levy author Alison Entrekin translator
Format:Paperback
Publisher:Scribe Publications
Published:12th Jan '23
£8.99
Available to order, but very limited on stock - if we have issues obtaining a copy, we will let you know.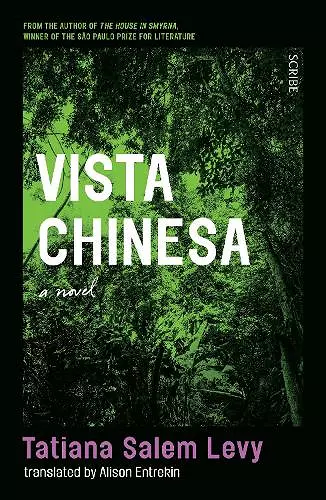 From one of Brazil's rising literary stars, an acclaimed novella about the violation of a woman and a city, based on true events.
It is 2014. There is euphoria in Brazil, especially in Rio de Janeiro. The World Cup is about to take place and the Olympics are in sight. It is a time of hope and frenzied construction.
Júlia is a partner with an architectural firm working on the future Olympic village. During a break from a meeting at the town hall, she goes for a run in the hillside neighbourhood of Alto da Boa Vista. There, a man puts a revolver to her head, takes her to a secluded spot, and rapes her. Left abandoned in the woods, she drags herself home, where her boyfriend and family members are waiting for her.
Vista Chinesa brings light and shadow to a city whose stunning beauty cannot conceal the most serious human and political problems, and gives voice to a story that is tragically not uncommon.
'Visceral, haunting … her fiction is original, startling and sits somewhere between the experimental novels of Eimear McBride and Leila Slimani's more shocking output … This is not an easy subject to write about, but Levy has pulled it off. The result is an immediate, powerful novel that should gain her talent wider recognition.'
-- Francesca Angelini * The Sunday Times *
'The novel is a searing study of the lasting effects of sexual violence, of the inadequacies of memory, and of the failures of Brazil's political and judicial systems.'  
-- Ángel Gurría-Quintana * Financial Times *
'Beautifully paced … It is a reckoning and a rebirth; an unsparing look at the consequences of gendered violence, and of the complex history of a city, a land, and a people.'
-- Catherine Taylor * The Irish Times *
'An impressive power, which takes us by storm in the first pages … as if the book were the forest itself, to accompany with extreme distress, with half-closed eyes, the maximum harshness.'
-- Julián Fuks, Brazilian writer and literary critic
'And that is what Vista Chinesa does: surviving a rape is not a shame, but a victory.'
-- Antonia Pellegrino, award-winning writer and screenwriter
'The author's focus on a corrupted body is interesting ... A body that in the eyes of the world is just another body, but which the person who inhabits it feels as the standard of the greatest shame. The victim is once again held responsible for the actions of the abuser, a harrowing experience that Salem Levy portrays to perfection.'
-- Paula Bonet * El País *
'That is the great thing and it is what literature can do — to put into words what is unbearable … Vista Chinesa is a slim book, a stunning piece of literature, and also an image of society. Intimacy becomes public and the personal becomes political.'
* Deutschlandfunk *
'A book full of beauty, depth, and space for reflection. The author does not exploit her story, but in a sense unfolds it to analyse it, and the way she does this, with prudence, economy, and veracity, makes this slim book unusual.'
* FAZ *
'Of impressive literary brilliance.'
* Expresso *
'A must-read.'
* Elle Brazil *
'A powerful story in which the voice of the victim is magnified, and where the focus is on recovery and moving on. Between the descriptions of unspeakable aggression, there are also moments of light, warmth and love.'
* Tony's Reading List *
'Full of bravery and insight.'
-- Eric Karl Anderson * Lonesome Reader *
'Vista Chinesa is based on the experiences of Levy's friend, Joana Jabace. Levy built up the narrative through a series of interviews. Jabace would then read what she had written and comment and, if necessary, Levy would revise. This approach gives a sense of immediacy and the account of the rape and its aftermath is shocking in its intensity. Levy's retelling, deftly translated by Alison Entrekin, is also a powerful act of female solidarity.'
-- Lucy Popescu * Financial Times *
'[A] work of genius. This is a bold daring book that will change your life.'
* The Bobosphere *
'[T]his powerful epistolary novel is narrated by Júlia, an architect reflecting on being "torn apart" by an intimate violation amid the tumult of the city, which is rife with violent fissures of its own.'
* The New York Times *
'[Levy] makes vital fiction out of a woman's attempt to process trauma.'
* Publishers Weekly *
'Capturing confusion, desperation, anger, and introspection, Vista Chinesa is a detailed, visceral novel in which a woman struggles to heal after surviving a sexual assault.'
* Foreword Reviews *
'A powerful and important book.'
-- Eric Karl Anderson * Lonesome Reader *
Praise for The House in Smyrna:
'Wonderful … deceptively simple prose carrying a great power of sorrow and, interestingly, hope.'
-- Ian McEwan
Praise for The House in Smyrna:
'Levy's writing is a joy … Her prose is rich, filled with a sense of the vividness and generosity of an author's available inspirations: the clamour of the senses, the restless truths of the body, the turns and consolations and perils of thought, the wonders of both beauty and ugliness and the meaning and architecture of words themselves.'
-- A.L. Kennedy * Granta *
Praise for The House in Smyrna:
'Teasing … Levy has crafted a puzzling, disturbing story that at times leaves the reader feeling blindfolded in a maze.'
-- Suzi Feay * Financial Tim
ISBN: 9781914484223
Dimensions: unknown
Weight: unknown
144 pages