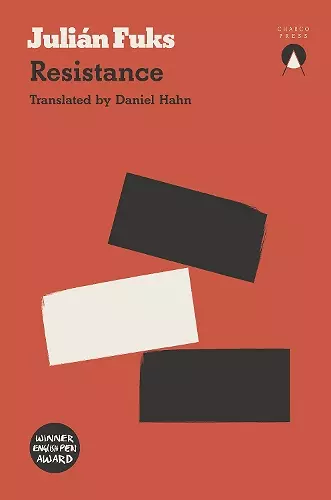 Adoption, exile and family are the focus of this exploration of what it means to belong.
My brother is adopted, but I can't say and don't want to say that my brother is adopted. If I say this, if I speak these words that I have long taken care to silence, I reduce my brother to a single categorical condition, a single essential attribute...A young couple, involved in the struggle against the military dictatorship in 1970s Argentina, must flee the country. The brutality and terror of the regime is closing in around them. Friends are being 'disappeared'. Their names are on a list. Time is running out. When they leave, they take with them their infant son, adopted after years of trying for a child without success. They build a new life in Brazil and things change radically. The family grows as the couple have two more children: a son and a daughter.Resistance unfolds as an intimate portrayal of the formation of a family under extraordinary circumstances, told from the point of view of the youngest child. It's an examination of identity, of family bonds, of the different forms that exile can take, of what it means to belong to a place, to a family, to your own past.Already winner of the Jabuti Award for Book of the Year 2016 (Brazil), the José Saramago Literary Prize 2017 (Portugal) and the Anna Seghers Prize 2018 (Germany), Resistance demonstrates remarkable courage and skill by one of Brazil's rising literary stars.
International Dublin Literature Prize (Longlist)
English PEN (Award)
José Saramago Literary Prize (Winner)
Jabuti Award for Best Foreign Edition (Winner)
Oceanos Prize for Literature in Portuguese (Winner)
Jabuti Award for Book of the Year (Winner)
Anna Seghers Prize (Winner)
"Fuks's skill lies in his quiet exploration of how exclusion — willed or imposed — shapes experience within families." —New York Times
"This small book carries a big punch...Fuks is a young writer to watch." —The Guardian
"Fuks' prose is rythmic and patterned." —The Times Literary Supplement
"Eloquent, unsettling and deeply philosophical." —The Financial Times
"Fuk's work, while challenging in form, comes together in a powerful way. This is a thoughtful novel about identity and exile." —Publishers Weekly
"This elegant, essayistic novel, the first translated into English by this Brazilian writer, is a family drama with the dramatic parts deliberately quieted.... Fuks impressively inhabits the near despair that comes with the fragmentation of family and country." —Kirkus
"Resistance is an urgent and profound novel, a meditation on family, home and dislocation. Fuks focuses on a single family living in Brazil, years after fleeing Argentina. One of the best novels I've read concerning the generation after Brazil's military regime. Fuks' writing is sharp and humane, intimate and lyrical. A stunning work." —Mark Haber, Brazos Bookstore
"A brilliant achievement." —Le Monde
**********
Praise for Julián Fuks
Part of The New York Times' The Decameron Project: New Fiction.
"Fiction to look out for in 2021." —The Observer
"...a thoughtful, intimate exploration of how people literally and figuratively occupy their own stories and those of others." —Publishers Weekly
"Poignant, thought-provoking and engaging." —The Scotsman
"Wholly mesmerising." —Irish Times
"Best books of 2021" —The Financial Times
"This is one beautiful book."" —Mia Couto
"A slender yet striking novel." —Hopscotch Translation
"Occupation asks a lot of its readers, but it gives in equal measure; and when you do come up for air, you look around you with a renewed and invigorated sense of the space you occupy in your own life. Superb." —Lunate
"A quiet masterpiece." —Asymptote
"In Fuks' prose occupation and resistance walk hand-in-hand." —Full Stop
**********
ISBN: 9781999859329
Dimensions: unknown
Weight: unknown
150 pages