This Book Event has already taken place
Barbara Kingsolver – Demon Copperhead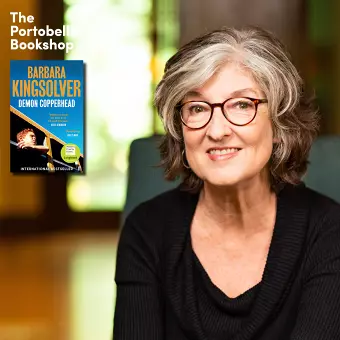 We're so pleased to be welcoming Barbara Kingsolver to Edinburgh for an event to celebrate the paperback publication of Demon Copperhead. Longlisted for the Women's Prize for Fiction 2023, this reimagining of David Copperfield is the latest in Kingsolver's body of work that has been widely recognised by awards and critics alike. Kingsolver will be in conversation with fellow writer Mary Paulson-Ellis.
Please note that this event will take place in Church Hill Theatre in Edinburgh.
Copies of Demon Copperhead will be on sale at the venue on the night. Please note that Ms Kingsolver is unable to sign or personalise books. Books will NOT be pre-signed, and there will be NO signing following the event.
There will not be a livestream of this event.
About Demon Copperhead:
Demon Copperhead is a once-in-a-generation novel that breaks and mends your heart in the way only the best fiction can.

Demon's story begins with his traumatic birth to a single mother in a single-wide trailer, looking 'like a little blue prizefighter.' For the life ahead of him he would need all of that fighting spirit, along with buckets of charm, a quick wit, and some unexpected talents, legal and otherwise. In the southern Appalachian Mountains of Virginia, poverty and addiction aren't ideas. They're as natural as the grass grows.

For Demon, born on the wrong side of luck, the affection and safety he craves is as remote as the ocean he dreams of seeing one day. The wonder is in how far he's willing to travel to try and get there. Suffused with truth, anger and compassion, Demon Copperhead is an epic tale of love, loss and everything in between.
Please note that tickets for our events are non-refundable. Thank you for your understanding.
Participants:
Barbara Kingsolver Author
Barbara Kingsolver's books of fiction, poetry and creative non-fiction are widely translated and have won numerous literary awards, including the Women's Prize for Fiction, awarded to The Lacuna; Flight Behaviour was also shortlisted. She is the founder of the PEN/Bellwether Prize, and in 2000 she was awarded the National Humanities Medal, her country's highest honour for service through the arts. Prior to her writing career, she studied and worked as a biologist. She lives with her husband on a farm in southern Appalachia.
Mary Paulson-Ellis Chair
Mary Paulson-Ellis is an award-winning novelist writing across the boundaries of crime, historical and literary fiction. Her debut, The Other Mrs Walker was a Times bestseller and Waterstones Scottish Book of the Year. Mary's work has featured in the Guardian and on BBC Radio 4 and in 2019 Val McDermid named her one of ten exciting LGBTQ+ writers working today. In 2023 she was appointed Dr Gavin Wallace Fellow by Edinburgh Unesco City of Literature for work on a new book about the city. Emily Noble's Disgrace is her third novel.
The venue
Church Hill Theatre
33 Morningside Rd
Edinburgh EH10 4DR
Telephone: 0131 220 4348
Website: churchhilltheatre.co.uk/
---
Two sloped ramps lead to the push-pad operated front doors, and we have accessible toilet facilities on the ground and first floors. The front of house team is always ready to help visitors who need it when accessing the bar or opening the double doors to the lift area, and assistance dogs are welcome.
There are allocated spaces for wheelchair users in the auditorium. If you need a wheelchair space or are planning to visit with a group of wheelchair users or others with special mobility needs, please contact the Church Hill Theatre team on 0131 220 4348.
We have a small number of accessible parking spaces that can be booked in advance of your visit. Please contact the Church Hill Theatre team on 0131 220 4348, if you'd like to reserve one.