This Book Event has already taken place - but you can
watch the replay
if you missed it
Leila Aboulela – River Spirit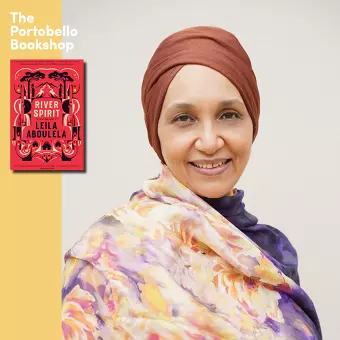 We're delighted to be welcoming Leila Aboulela to the bookshop for an event to celebrate her new novel, River Spirit. This historical novel follows seven different characters against the backdrop of 1890s Sudan struggling against British conquest, telling a tale of political corruption, sacrifice and familial ties. Leila will be in conversation with fellow writer Esa Aldegheri.
This event will take place in the bookshop with an in-person audience, as well as a livestream for attendees watching from home. There will be a signing after the event.
In-person vouchers can be redeemed on the night of the event against a single copy of River Spirit – we will have a list of attendees with vouchers to be redeemed. Please note that only one voucher can be redeemed per book. Livestream vouchers are valid until the day after the event and can be redeemed on our website against a single copy of River Spirit.
About River Spirit:
1890s Sudan. When Akuany and her brother Bol are orphaned in a village raid, they're taken in by a young merchant, Yaseen, who promises to care for them: a vow that tethers him to Akuany through their adulthood. As a revolutionary leader rises to power – the self-proclaimed Mahdi, prophesied redeemer of Islam – Sudan begins to prise itself from Ottoman rule, and everyone must choose a side.
Yaseen feels beholden to stand against this false Mahdi, a decision that threatens to splinter his family. Meanwhile, Akuany moves through her young adulthood and across the country alone, sold and traded from house to house, with only Yaseen as her intermittent lifeline. Their struggle mirrors the increasingly bloody struggle for Sudan itself – for freedom, safety, and the possibility of love.
Through the voices of seven men and women whose fates grow inextricably linked, River Spirit illuminates a fraught and bloody reckoning with the history of a people caught in the crosshairs of imperialism. This is a powerful tale of corruption, coming of age, and unshakeable devotion – to a cause, to one's faith, and to the people who become family.
Please note that tickets for our events are non-refundable. Thank you for your understanding.
Participants:
Leila Aboulela Author
Leila Aboulela was born in Cairo, grew up in Khartoum, and moved to Aberdeen in her mid-twenties. Nominated three times for the Orange Prize (now the Women's Prize for Fiction,) she is the author of five novels, including Bird Summons, The Translator, and Lyrics Alley, which was Fiction Winner of the Scottish Book Awards. Leila was the first winner of the Caine Prize for African Writing, and her short story collection, Elsewhere Home, won the Saltire Fiction Book of the Year Award.
Esa Aldegheri Chair
Esa Aldegheri is a multilingual writer, educator and researcher with a PhD in community education and migration studies. She works at the University of Glasgow. Her non-fiction debut Free to Go (John Murray Press, 2022) moves beyond the parameters of a simple travel narrative to explore different aspects of freedom and borders, both geopolitical and personal. Esa's non-fiction writing has also been published by Granta, Gutter Press, the Dangerous Women Project and others. Her poetry has been read on Radio 4 and Radio Scotland and features in several anthologies. She is from Scotland and Italy, and lives with her husband and children by the sea near Edinburgh.
The venue
The Portobello Bookshop
46 Portobello High Street
Edinburgh
EH15 1DA
Telephone: 0131 629 6756
Website: www.theportobellobookshop.com
---
Wheelchair Access
We have a ramp at the front of the shop which has a ratio of 1:10 and loading capacity of 300kg, and so should be able to be used by most wheelchair users or those with mobility vehicles. The front doors are fully automated. Our shop interior is designed to allow access throughout for wheelchair users and prams, though please note there is only 700mm wide clearance to access the staff toilet.

Sound
We use a PA system to enhance the audio at our live events. We also have a hearing loop system installed, if you'd like to use our loop system during an event please let us know and we'll make sure we have it setup and connected to the live audio feed during the event. If you wish to attend an event and require BSL interpretation, please give us a few weeks notice and we'll do our best to arrange an interpreter.