The History Book
Big Ideas Simply Explained
Format:Hardback
Publisher:Dorling Kindersley Ltd
Published:1st Jul '16
£19.99
Available for immediate dispatch.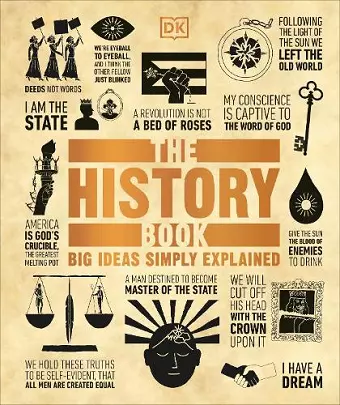 Learn about the origins of our species and all things revolution in The History Book.

Part of the fascinating Big Ideas series, this book tackles tricky topics and themes in a simple and easy to follow format. Learn about History in this overview guide to the subject, brilliant for novices looking to find out more and experts wishing to refresh their knowledge alike! The History Book brings a fresh and vibrant take on the topic through eye-catching graphics and diagrams to immerse yourself in.

This captivating book will broaden your understanding of History, with:

- Easy to navigate step-by-step summaries that explain each historical theme
- Packed with facts, charts, timelines and graphs to help explain core concepts
- A visual approach to big subjects with striking illustrations and graphics throughout
- Easy to follow text makes topics accessible for people at any level of understanding

The History Book is a captivating introduction to the key events that have shaped society, from the dawn of civilization to the modern culture of today. Here you'll discover the stories of important historical events and turning points, and the leaders, thinkers, and heroes involved, through exciting text and bold graphics.

Your History Questions, Simply Explained

This book will outline big ideas, themes and events of world history, from the founding of Baghdad and the colonisation of the Americas, to the inception of Buddhism. If you thought it was difficult to learn about the milestones that have shaped civilization, The History Book presents key information in a clear layout. Here you'll learn about early humans, the empires of ancient history, the voyages of discovery to the tumultuous birth of nationalism, and the violence of two world wars.

The Big Ideas Series

With millions of copies sold worldwide, The History Book is part of the award-winning Big Ideas series from DK. The series uses striking graphics along with engaging writing, making big topics easy to understand.
ISBN: 9780241225929
Dimensions: 241mm x 204mm x 24mm
Weight: 1152g
352 pages