Entrepreneurs Who Changed History
Format: Hardback
Publisher: Dorling Kindersley Ltd
Published: 3rd Sep '20
This title is currently unavailable, but we can notify you if and when it becomes available again.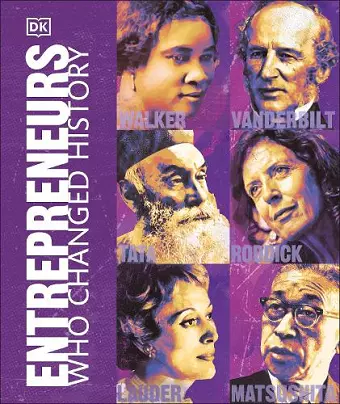 A boldly illustrated biography-led title profiling more than 90 of the world's most influential entrepreneurs and business leaders throughout history
Whether titans of industry, influential business leaders, or creators of history's most recognizable brands, these entrepreneurs had the vision, innovation, and ruthless determination to make their marks on our society in indelible ways.

Boldly illustrated and comprehensive in its scope and depth, Entrepreneurs Who Changed History profiles more than 90 leaders of industry across the world and throughout the ages - from the enterprising bankers of the medieval world and the merchants of empire, to the titans of industry and the geniuses of Silicon Valley.

Combining accessible text with specially-commissioned illustrated portraits in a range of bold artwork styles, photographs, and infographics, entries showcase each individual in a fresh, visual way. The towering personalities behind some of history's most recognisable brands and companies - their ruthlessness, tenacity, creativity, and sheer grit - are all brought to vivid life.

Profiling the kings and queens of commerce and trade, Entrepreneurs Who Changed History features the familiar faces of Vanderbilt and Rockefeller, Ford and Ferrari, Gates and Zuckerberg, alongside lesser-known figures such as the enterprising women of colonial America, the emancipated enslaved people who became millionaires against all odds, and the individuals powering today's emerging economies.
ISBN: 9780241410271
Dimensions: 235mm x 198mm x 30mm
Weight: 1085g
320 pages