Small Worlds
From the bestselling author of OPEN WATER
Format: Hardback
Publisher: Penguin Books Ltd
Published: 11th May '23
£14.99
This title is due to be published on 11th May, and will be despatched as soon as possible..
This hardback is available in another edition too: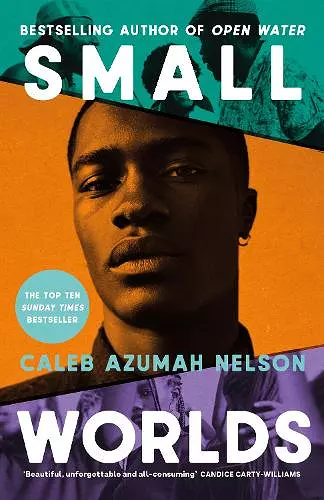 An exhilarating and expansive new novel about fathers and sons, faith and friendship from Caleb Azumah Nelson, the no.1 bestselling, award-winning author of Open Water - available for pre-order now

'Beautiful, unforgettable and all-consuming' CANDICE CARTY-WILLIAMS, bestselling author of QUEENIE and PEOPLE PERSON

The one thing that can solve Stephen's problems is dancing. Dancing at Church, with his parents and brother, the shimmer of Black hands raised in praise; he might have lost his faith, but he does believe in rhythm. Dancing with his friends, somewhere in a basement with the drums about to drop, while the DJ spins garage cuts. Dancing with his band, making music which speaks not just to the hardships of their lives, but the joys too. Dancing with his best friend Adeline, two-stepping around the living room, crooning and grooving, so close their heads might touch. Dancing alone, at home, to his father's records, uncovering parts of a man he has never truly known.

Stephen has only ever known himself in song. But what becomes of him when the music fades? When his father begins to speak of shame and sacrifice, when his home is no longer his own? How will he find space for himself: a place where he can feel beautiful, a place he might feel free?

Set over the course of three summers in Stephen's life, from London to Ghana and back again, Small Worlds is an exhilarating and expansive novel about the worlds we build for ourselves, the worlds we live, dance and love within.

'The rhythms of Small Worlds are a feature of Azumah Nelson's quiet, particular ear and of a profound engagement with music. Nelson writes about closeness, with family, with lovers, with art, as careful, essential labour' RAVEN LEILANI, award-winning author of LUSTER

"In his beautiful new novel Nelson summons the sounds of Black Youth, love and discovery to the page. A celebration of the heart' NANA KWAME ADJEI-BRENYAH, author of CHAIN-GANG ALL-STARS and FRIDAY BLACK

'Caleb Azumah Nelson's writing is touching, heartfelt, and musically rich' DIANA EVANS

'SMALL WORLDS is a miracle of observation, of attention and attunement. Caleb Azumah Nelson writes prose that is unmatched in its musicality and sensitivity. A gorgeous, rhapsodic,...
Caleb Azumah Nelson's writing is touching, heartfelt, and musically rich -- Diana Evans
SMALL WORLDS is a miracle of observation, of attention and attunement. Caleb Azumah Nelson writes prose that is unmatched in its musicality and sensitivity. A gorgeous, rhapsodic, wise novel -- KATIE KITAMURA, author of INTIMACIES
In his beautiful new novel Nelson summons the sounds of Black Youth, love and discovery to the page. A celebration of the heart -- Nana Kwame Adjei-Brenyah, author of CHAIN-GANG ALL-STARS and FRIDAY BLACK
Caleb Azumah Nelson's Open Water was a slim masterpiece. His second novel, Small Worlds is a similarly lapidary coming-of-age story set over three years in the life of an extraordinary young man. * Observer *
A gentle reflection on self-discovery * Vogue, 2023 Spring Highlights *
If you haven't had a chance to read Caleb Azumah Nelson's debut, Open Water, about a gorgeous love affair in modern-day London, then please do; it'll keep you occupied until his new release is out on 11 May, which is about fathers and sons, the power of dance and how one man can create a life he loves * Stylist, Big Fiction for 2023 *
Small Worlds grabs you by the heart and holds tightly, revealing a story as beautiful and as lyrical as the words that adorn the pages. -- Sofia Akel
Let's hear it for Caleb Azumah Nelson, also known as the future -- Benjamin Zephaniah
An exhilarating new voice in British fiction * Vogue *
One of Britain's most exciting young voices * Harper's Bazaar *
Hands-down the best debut I've read in years * The Times on OPEN WATER *
The rhythms of Small Worlds are a feature of Nelson's quiet, particular ear and of a profound engagement with music. Nelson writes about closeness, with family, with lovers, with art, as careful, essential labour -- Raven Leilani, bestselling author of LUSTER
A novel that feels as intimate as it does expansive; Caleb Azumah Nelson has given to us a love story that goes beyond two people. Instead, there are no bounds to his exploration of exactly what the heart can feel. Beautiful, unforgettable and all-consuming -- Candice Carty-Williams, bestselling author of QUEENIE and PEOPLE PERSON
A beautiful novel. Caleb Azumah Nelson is not just a storyteller; he is a cultural archivist of our time. At the core of Small Worlds is a deep love. Whether in music, locality, the people we are introduced to, or the circumstances that we journey and process through. Love is the offer, and Caleb's reminder for us is to lean into these offerings for history and reflection. For guidance, and most importantly, our survival. -- Yomi Sode, author of MANORISM
ISBN: 9780241574348
Dimensions: 204mm x 132mm x 25mm
Weight: 500g
272 pages