Stella Maris
Format:Paperback
Publisher:Pan Macmillan
Published:28th Sep '23
£9.99
Available for immediate dispatch.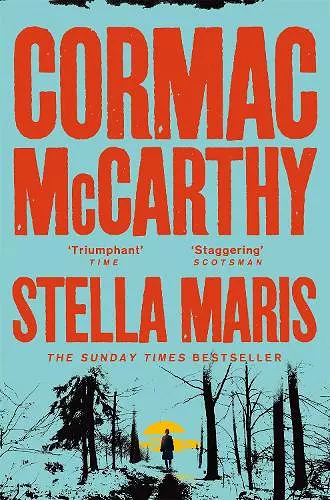 The Passenger and Stella Maris are the final offerings from the late Cormac McCarthy, one of the great masters and a giant of American literature.
The masterful coda to The Passenger from the Pulitzer Prize-winning author of The Road.
'Cormac McCarthy was such a virtuoso, his language was so rich and new . . . McCarthy worked close to some religious impulse, his books were terrifying and absolute. His sentences were astonishing.' - Anne Enright

---

'A drought-busting, brain-vexing double act' – Guardian

Alicia Western is the following: Twenty years old. A brilliant mathematician at the University of Chicago. And a paranoid schizophrenic who does not want to talk about her brother, Bobby.

Told entirely through the transcripts of Alicia's psychiatric sessions, Stella Maris is a searching, profoundly moving companion to The Passenger. It is a powerful enquiry that questions our notions of God, truth, and life itself by one of America's finest writers.
Remarkable… a staggering achievement * Scotsman *
His sentences have the solidity of stones and the clarity of diamonds * Financial Times *
A true work of literature… If McCarthy's goal was for these books to haunt readers long after they are set aside, then he has succeeded. * LA Review of Books *
Remarkable… [Stella Maris] harmonises both sadly and gorgeously with its recent predecessor. Side by side, both novels affirm the extraordinary poetry and strangeness of McCarthy's vision * Sydney Morning Herald *
Like Bach's concertos, these triumphant novels depart the realm of art and encroach upon science, aimed at some Platonic point beyond our reckoning where all spheres converge * TIME *
Great additions to McCarthy's already outstanding oeuvre and proof that the mind of one of our greatest living writers is as sharp as it has ever been. * NPR *
ISBN: 9780330457453
Dimensions: 197mm x 147mm x 18mm
Weight: 159g
208 pages