The Passenger & Stella Maris: Boxed Set
Format:Set / collection
Publisher:Pan Macmillan
Published:6th Dec '22
Currently unavailable, and unfortunately no date known when it will be back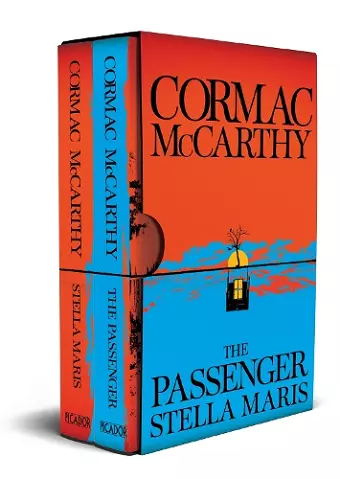 One of America's greatest living writers, now eighty-eight, returns with a pair of books a decade in the making, presented here in a lavish, limited edition slipcase
One of America's greatest living writers, now eighty-eight, returns with a pair of books a decade in the making, presented here in a lavish, limited edition slipcase.
A beautiful, limited edition slipcase containing Cormac McCarthy's two-book masterpiece

THE PASSENGER

Cormac McCarthy's first novel in more than a decade.

'[McCarthy] writers prose as clean as a bullet cutting through the air and constructs tales as compelling as any you will read' – Telegraph

A SUNKEN JET. NINE PASSENGERS. A MISSING BODY.
The Passenger is the story of a salvage diver, haunted by loss, afraid of the watery deep, pursued for a conspiracy beyond his understanding, and longing for a death he cannot reconcile with God.

STELLA MARIS

The masterful coda to The Passenger from the Pulitzer Prize–winning author of The Road.

'One of the greatest American novels of this or any other time' – Guardian

GOD. TRUTH. EXISTENCE.

Stella Maris is the story of a mathematician, twenty years old, admitted to the hospital with forty thousand dollars in a plastic bag and one request: She does not want to talk about her brother.
ISBN: 9781035003808
Dimensions: 249mm x 169mm x 60mm
Weight: 1182g