Love Marriage
Don't miss this heart-warming, funny and bestselling book club pick about what love really means
Format: Paperback
Publisher: Little, Brown Book Group
Published: 2nd Feb '23
£9.99
Available, normally delivered within 3-6 days.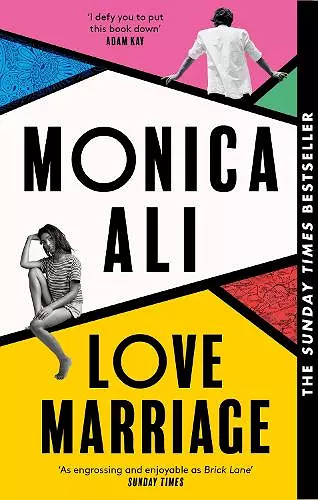 The instant Sunday Times bestseller about how we live and love today in the UK - from the Booker Prize-shortlisted author of Brick Lane
THE INSTANT SUNDAY TIMES BESTSELLER
A BBC BETWEEN THE COVERS BOOK CLUB PICK
AS HEARD ON RADIO 4 BOOK AT BEDTIME, READ BY MEERA SYAL
A BOOK OF THE YEAR IN THE TIMES, DAILY MAIL, RED MAGAZINE, GOOD HOUSEKEEPING

'Absolutely terrific' JENNY COLGAN

'An utterly unputdownable exploration of modern love' STYLIST

'Gloriously readable, acute, funny and sympathetic' DAILY MAIL

TWO CULTURES. TWO FAMILIES. TWO PEOPLE.

Yasmin Ghorami has a lot to be grateful for: a loving family, a fledgling career in medicine, and a charming, handsome fiancée, fellow doctor Joe Sangster. But as the wedding day draws closer and Yasmin's parents get to know Joe's firebrand feminist mother, both families must confront the unravelling of long-held secrets, lies and betrayals.

As Yasmin dismantles her own assumptions about the people she holds most dear, she's also forced to ask herself what she really wants in a relationship and what a 'love marriage' actually means.

'A glorious tapestry of modern British family life' METRO

'I defy you to put this book down' ADAM KAY

'A surefire hit' OBSERVER

'Wildly entertaining ... a bold and generous book' FINANCIAL TIMES

'Big-hearted, wry and tender' HARPER'S BAZAAR

'As engrossing and enjoyable as Brick Lane' SUNDAY TIMES

'Rich, sensitive and gloriously entertaining' TASH AW, TLS
Absolutely terrific . . . genuinely touching . . . every one of its many characters, no matter how small their part, is beautifully rounded out -- Jenny Colgan * Spectator *
Gloriously readable, acute, funny and sympathetic * Daily Mail *
Compelling, witty and warm-hearted * Sunday Express *
Ali provides an acute examination of race, class and identity in British society . . . A glorious tapestry of modern British family life * Metro *
Wise, warm and utterly compelling * Red *
Worth the decade it took to arrive . . . This is a proper family saga, both deliciously old-fashioned and full of surprising reversals -- Alex Preston * Observer *
Every bit as compelling as her debut Brick Lane . . . Ali perfectly captures the delicate push-pull with families in this warm and intelligent family drama * Good Housekeeping *
A topically freighted tale of premarital tension told with easy-reading propulsion, Love Marriage has the air of a surefire hit * Observer *
Love Marriage is enormously satisfying in its inventions and observations, and its exploration of cultural diversity in Britain. At once touching and satirical . . . as engrossing and enjoyable as Brick Lane -- David Sexton * Sunday Times *
Nuance is one of Ali's greatest skills; she can lay out a character's flaws, self-delusions and inconsistencies and then make you love them anyway * The Times *
Monica Ali's rich, sensitive and gloriously entertaining novel . . . brim[s] with extremely funny moments of excruciating social comedy . . . For all its precise comic timing and consummate plotting, the novel's real strength lies in its depiction of complex social encounters, leaving the reader to decide which side, if any, to take . . . [A] love letter to the richness of London life -- Tash Aw * Times Literary Supplement *
Wildly entertaining . . . Filled with people who are not just likeable, but loveable. This contract of sympathy, which flows between reader and characters, deepens and enriches the portrait of contemporary London that Ali creates with a confident Dickensian sweep -- Susie Boyt * Financial Times *
Big-hearted, wry and tender . . . a state-of-the-nation novel in the very best sense . . . a terrific story delivered with a light touch: with dialogue that can turn a situation on a sixpence and exquisite descriptions . . . There are some extremely moving moments, and splendid cinematic scenes of high comedy * Harper's Bazaar *
The beating heart of this novel is the author's uncompromising scrutiny of the messy, heart-breaking, head-wrecking, brutal beauty of family dynamics . . . Heroes and anti-heroes fuse to create multidimensional characters who each evoke huge sympathy * Irish Times *
There are riches here. All the components of modern identity are laid out: race, class, gender, faith, sexuality . . . engaging, entertaining and relevant * Guardian *
Poignant and precise . . . a tribute to freedom and self-exploration, Ali's novel is, above all, a story about love - the bonds that it brings, and the shackles * New Statesman *
A warm and welcoming book, styled in witty, graceful prose . . . a novel of immense brightness * Big Issue *
Compulsive, tightly plotted . . . Love Marriage reveals a master storyteller playing to her strengths: a satirical eye that deftly navigates the fine line between humour and pathos; a wicked ear for dialogue; and a flair for conjuring illicit passion * Prospect *
This is such a gloriously vibrant and tender novel packed with wit, intelligence and wisdom. It has everything - clashing cultures, family rifts, suppressed addictions, desire, passion. Her two junior doctor protagonists are superbly drawn - flawed, courageous, flailing, human. Just brilliant -- Rachel Clarke

I absolutely loved it. It had me gripped and I was so invested in her brilliant characters with their fallibilities and secrets! I empathised with every one of them and really felt I knew them all as individuals. I loved how she so cleverly interwove their experiences to create such a fabulous story. She writes human frailty so well, and her astute observations on family dynamics are superb. Exquisitely written with big heartedness, intelligence and passion. This will be a hit I have no doubt
-- Ruth Jones, author of NEVER GREENER
Funny, warm, powerful
. . .
Love Marriage
has a warm intelligence and a sharp observational power, making the characters and the world of the story feel very alive -- Diana Evans
A novel with the richness, and the throng and press and hum of life itself,
Love Marriage
is
bold, compassionate, big-hearted, pitch-perfectly written, and utterly unputdownable
. Every single character lives and breathes on the page. Make time for all of them for they are going to take up residence in your mind and soul for a long, long time -- Neel Mukherjee, Booker Prize shortlisted author of THE LIVES OF OTHERS
A
truly astonishing
piece of writing -
exquisite storytelling
, featuring the most human portrayal of doctors I've ever read.
I defy you to put this book down
-- Adam Kay
I have loved every one of Monica Ali's books and
Love Marriage
is her best.
A huge, bounteous story, it is lit from end to end with human variety and storytelling brilliance
. Ali writes like an angel who is not afraid of the devil. It will be a novel of the year and
confirms Monica Ali as a national treasure
-- Andrew O'Hagan
No one captures the modern family like Monica Ali - Love Marriage is a masterful cacophony of characters, all drawn with deep empathy and sharp insight. The novel is full of surprises and unexpected twists, with an ending that will take your breath away
-- Tahmima Anam
Exuberant, entertaining
. . .
at the book's close is an impressive example of a revelation that makes sense of what has gone before rather than invalidating the reader's experience * Oldie *
I absolutely loved Love Marriage.
It's a story about love and family, about despair and forgiveness, about trauma and recovery, about expectation and responsibility, about friendship and community. Mostly, it's about having the courage to lose yourself, in order to find yourself again.
It's big-hearted and tender and it's a novel that cares about its characters so deeply that you will too
-- Hannah Beckerman
I loved Love Marriage, and looked forward to reading it every night. Funny, compassionate, sexy, romantic, beautifully plotted and richly peopled, it is both highly original and working within a literary tradition of novels about love and marriage. Above all it is about the way that individuals are a mystery to each other, and themselves, wounding and misunderstanding each other, yet also about how, with patience and kindness, we can change for the better
-- Amanda Craig
Through the construct of a marriage, Monica Ali imagines complex modern lives tip-toeing around and defying each other's sensitivities in a warm, affectionate and hilarious novel. Love Marriage is every bit as compelling, as charming as Brick Lane. A joyous novelist at the peak of her formidable powers writing fresh lives into our literary tradition
-- Daljit Nagra, author of LOOK WE HAVE COMING TO DOVER!
I tore through Love Marriage. An engrossing read
. . .
Such a brilliant portrayal of how we can't help but be mortified by the ones we love, no matter how much we hate ourselves for it.
Even in the characters' darkest and most desperate moments there is warmth - they're not perfect but you root for them all the same. I enjoyed my time peeking into their lives - and was happy to see everybody exactly where they should be (for better or worse) when it came time to leave them -- Justin Myers
A brilliant exploration of the complexities of human connection ...
wonderfully rich and nuanced
...
packed with compelling characters and thrilling plot twists
* i paper *
The
Brick Lane
author returns to form with
Love Marriage . . .
There is lots of drama here, ranging from sex addiction to rampant Islamophobia, but there are also laugh-out-loud funny moments, as when Mrs Ghorami mistakes a Howard Hodgkin painting on the wall of Harriet's airy Primrose Hill mansion for a sentimental childhood artwork. The BBC is already making it into a series, and it's easy to see why -- Hayley Maitland * Vogue *
Quick-footed and absorbing . . . The playful clash of cultures evolves into a subtle exploration of the ways in which both immigrant and non-immigrant families have shaped their children * New Yorker *
Short-listed for Comedy Women in Print Prize 2023 (UK)
ISBN: 9780349015507
Dimensions: 196mm x 126mm x 42mm
Weight: 406g
512 pages