This is a special Independent Bookshop Edition, and has very limited quantity available
Rouge Independent Bookshop Edition
Format:Hardback
Publisher:Simon & Schuster Ltd
Published:14th Sep '23
£16.99
Available to order, but very limited on stock - if we have issues obtaining a copy, we will let you know.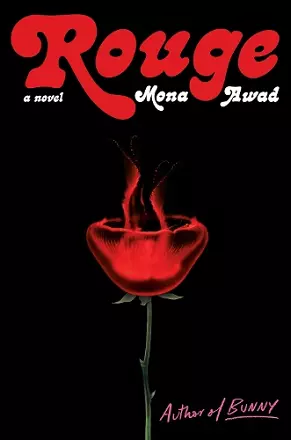 The breath-taking new novel from the author of Bunny.
This Indie Exclusive edition of Rouge features a red sprayed edge.
From the critically acclaimed author of Bunny comes a horror-tinted, gothic fairy tale about a lonely dress shop clerk whose mother's unexpected death sends her down a treacherous path in pursuit of youth and beauty.

Can she escape her mother's fate and find a connection that is more than skin deep?

A Most Anticipated Book of 2023 in The Guardian, i newspaper, The New York Times, Time, Globe and Mail, Bustle, The Millions, LitHub, TOR, Good Housekeeping, Our Culture Mag, and more!

'You think, "She's not going to go there…yes, she is." Margaret Atwood

'[A] biting satire on the beauty industry.' The Guardian

'[D]ark and seductive.' i newspaper

'An edgy fable on the perils of our modern fascination with beauty.' Vogue

'Awad is a genius, preternaturally gifted at creating vicious, hilarious tales about the depravity inside us.' Vulture

For as long as she can remember, Belle has been insidiously obsessed with her skin and skincare videos. When her estranged mother Noelle mysteriously dies, Belle finds herself back in Southern California, dealing with her mother's considerable debts and grappling with lingering questions about her death. The stakes escalate when a strange woman in red appears at the funeral, offering a tantalizing clue about her mother's demise, followed by a cryptic video about a transformative spa experience. With the help of a pair of red shoes, Belle is lured into the barbed embrace of La Maison de Méduse, the same lavish, culty spa to which her mother was devoted. There, Belle discovers the frightening secret behind her (and her mother's) obsession with the mirror—and the great shimmering depths (and demons) that lurk on the other side of the glass.

Snow White meets Eyes Wide Shut in this surreal descent into the dark side of beauty, envy, grief, and the complicated love between mothers and daughters. With black humor and seductive horror, ROUGE explores the cult-like nature of the beauty industry—as well as the danger of internalizing its pitiless gaze. Brimming with California sunshine and blood-red rose petals, ROUGE holds up a warped mirror to our relationship with mortality, our collective fixation with the surface, and the wondrous, deep longing that might lie beneath.

'A brilliant, biting critique of western beauty standards as well as a soaring, phantasmagoric, Angela Carter-esque fairy tale about trauma and the loss of...
ISBN: 9781398504936-IB
Dimensions: 216mm x 135mm x 27mm
Weight: 458g
384 pages